021223 College Hill Poultry is "Poultry Innovator of 2002"
December 17, 2002

Fredericksburg, PA - College Hill Poultry has been named "Poultry Innovator of the Year" by Poultry Magazine. Executive Editor, Yvonne Vizzier-Thaxton cited the company's innovative niche marketing strategy, saying, "Fewer than two years after buying the company, College Hill's owners have evolved beyond the company's 71 year legacy..."

William D. Robinson, President and co-owner of College Hill Poultry initiated the niche strategy, which included the launch of their all-natural antibiotic-free, animal byproduct-free chicken brand "Raised Right," the value-added Easy Street Gourmet, a Halal line for the Muslim market, as well as their standard commodity line of College Hill.

"Launching an antibiotic free line made perfect sense," said Robinson, explaining, "Our research indicated that people are increasingly concerned with food additives and the overall treatment of the food they eat. Our answer was to give them a chicken raised on an old-fashioned diet of pure corn and soybeans, with positively no antibiotics, animal by-products or artificial additives."

College Hill's ability to offer Raised Right is the direct result of their relationship with Kreamer Feed Company, which is also owned by the Robinson family. "Because we control the feed, we can assure the chickens get a diet of pure corn and soybeans, so it tastes like chicken grandma used to make," he added.

Raised Right chicken is served in some of the finest restaurants and is among the quality meat products used by the Culinary Institute of America at Hyde Park. Their foodservice program includes rotisserie chicken, which won independent preference tests conducted by a nationally acclaimed culinary school.

The company's niche strategy also includes a Halal line for to the Muslim community, which is a growing market segment, while continuing to offer their standard College Hill chicken at a lower price point.

College Hill's support programs are specifically designed to meet the needs of each niche. For example, Raised Right has a comprehensive retail support program that includes case dividers, danglers, POP brochures, couponing, which are offered in customized merchandising programs.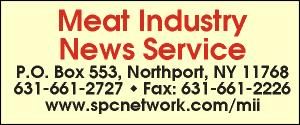 E-mail: sflanagan@sprintmail.com