021219 Georgia Company Recalls 36,000 Pounds of Chicken
December 13, 2002

Washington - A Georgia company has recalled about 36,000 pounds of fully cooked, frozen chicken products that may be contaminated with plastic, the Department of Agriculture announced.

The product was recalled by ConAgra Foods Poultry Group of Elberton, Ga.

The chicken was produced on Aug. 29 and distributed to retail stores in Alabama, Florida, Georgia, Illinois, Kentucky, Maryland, Mississippi, Missouri, North Carolina, Tennessee and Texas.

"Because of the potential for injury, we want consumers to be aware of the recall," said Garry L. McKee, administrator for the department's Food Safety and Inspection Service.

ConAgra Foods Poultry Group notified FSIS that it was recalling the products based on the results of an investigation conducted by the company.

The product is "Easy Entree Popcorn Style Chicken, Fully Cooked, Breaded Chicken Breast with Rib Meat, Made with White Meat, Oven Crisp Breading."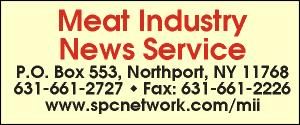 E-mail: sflanagan@sprintmail.com