021212 Publix Recalls Potentially Contaminated Meat
December 11, 2002

If you bought ground beef at one South Florida grocery store, you need to be aware of a recall.

Publix is voluntarily recalling ground beef sold in the Coconut Creek store located at 4849 Coconut Creek Parkway because of possible E. coli contamination.

The ground beef being recalled is packaged in varying weights, but all have the sell date of 12/07/02. The recalled products are:

Publix Beef:

Lean ground (7 percent fat)

Ground sirloin

Ground chuck

Ground beef

Garry L. McKee, U.S. Department of Agriculture's Food Safety and Inspection Service administrator said, "I urge consumers who have purchased the suspect product not to eat it and return it to the place of purchase because of the potential hazard of food borne illness."

The problem was discovered through routine FSIS sampling.

McKee said that the FSIS has not received any reports of illnesses associated with this beef.

If you purchased any of this beef, you can return it to the store for a full refund.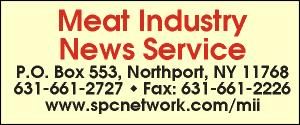 E-mail: sflanagan@sprintmail.com