021207 Wendy's Reports Positive November Sales
December 7, 2002

Dublin, Oh - Wendy's International, Inc. announced positive sales in November for both its Wendy's and Tim Hortons brands. During Period 11, which ended on December 1, 2002:

* Same-store sales increased 1.0% at Wendy's U.S. company restaurants and 2.5% at franchised restaurants.

* Same-store sales increased 4.2% at Tim Hortons restaurants in Canada and 4.7% at Tim Hortons restaurants in the U.S.

Chairman and Chief Executive Officer Jack Schuessler said: "Our operators and franchisees delivered another solid sales performance in a challenging environment. We focused on further improving our restaurant operations and serving quality products, while our competitors resorted to discounting as a tactic."

Wendy's featured its premium Mozzarella Chicken Supreme sandwich at the beginning of the month. National advertising for December highlights Wendy's dual bacon Swiss hamburger and chicken sandwiches.

"In addition to our premium sandwiches, we continue to offer our Super Value Menu every day," said Schuessler. "Customers trust Wendy's value menu because it is familiar and predictable. It features 10 quality items such as our Junior Bacon Cheeseburger, Frosty dairy dessert, chili, Crispy Chicken Nuggets and French fries, all priced at 99 cents every day. We've offered our Super Value Menu for the past 13 years as part of our long-term brand strategy. We have no intention of discounting."

Tim Hortons continued to focus on customer service initiatives and featured its new baguette sandwiches and a variety of soups for lunch and dinner. Tim Hortons is currently promoting coffee and holiday merchandise such as limited edition collector canisters and travel mugs. To access more information about Tim Hortons' products, go to the website at: www.timhortons.com/english/english.html and select "What's New".

Management expects 2002 EPS growth of 14% to 15%

The Company is tightening its 2002 EPS growth goal to a range of $1.88 to $1.90, a 14% to 15% increase over $1.65 in 2001. The Company's long-term goal for annual EPS growth continues to be in the 12% to 15% range.

"Our sales growth at Wendy's and Tim Hortons this year has been very robust, our new unit development is on track and our earnings performance has been outstanding," said Chief Financial Officer Kerrii Anderson. "We are bullish about our strategic plan and growth prospects.

"At the same time, we are facing some short-term challenges and believe it is prudent to tighten our annual growth goal for earnings per share to 14% to 15%, compared to our previous guidance which was 15% to 16%," Anderson said.

The short-term challenges include discounting of premium products by quick-service hamburger competitors, weak economic conditions in the U.S. and significantly worse weather in October, November and the first week of December versus a year ago.

Management expects dilution in 2002 from Baja Fresh Mexican Grill to be at the high end of its $0.02 to $0.04 per share guidance. The Company acquired Baja Fresh in June 2002 and the fast-casual restaurant business is profitable. The dilution is the result of interest payments on $225 million of 6.2% senior notes issued to pay for the acquisition, as well as integration costs and amortization of acquisition-related intangibles. The chain continues to open new restaurants as part of its national expansion plan to reach 600 to 700 total units by the end of 2007.

The Company also announced that Cafe Express recently completed a strategic business plan and decided to close its Phoenix, Ariz., restaurant. The impact of the closing and operating losses at the Phoenix location is expected to cost Wendy's about one-third of a penny in earnings during the fourth quarter. Wendy's invested $9 million in Cafe Express during 2002 and owns 45 percent of the fast-casual restaurant chain, which has 13 units in Texas. Cafe Express recently opened a new restaurant in Houston, which is producing strong results, and is poised to grow to 50 units.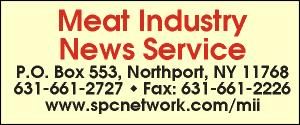 E-mail: sflanagan@sprintmail.com