021203 Meat Packing Industry "Not Like It used to Be"
December 3, 2002

Waukesha, WS - Hatfield Quality Meats has built its reputation for "quality and integrity" by delivering the best fresh and manufactured quality pork products since 1895. So when Dave Woelkers, Hatfield Vice President of Logistics, states that the industry is "not what it used to be," he has a pretty good perspective to call upon.

"Orders are much more complex now," said Woelkers. "Each customer has different requirements for expiration date handling. We need to know the code dates, meaning the `sell by' date on the products, for all items in the shipment. This puts tremendous pressure on inventory accuracy and traceability.

"At the same time, the recent high profile recalls in the meat industry have led to greater public awareness of potential health issues," continued Woelkers. "We are taking a leadership role with product traceability all the way out to the customers to demonstrate that our reputation for quality is well earned. Inventory visibility is extremely important because of the limited shelf life of our products. In this business, you either sell the products by the expiration date or you throw them away."

To better address these challenging inventory management issues, Hatfield, Pennsylvania based Hatfield Quality Meats decided to implement an advanced supply chain execution solution. They visited several companies currently using warehouse management systems and hired outside consultant ROME to help them develop a weighted RFQ with which to evaluate potential vendors. Through this process they narrowed the field to RedPrairie Corporation and another prominent vendor. RedPrairie (formerly McHugh Software International) is the leading provider of real-time, end-to-end logistics solutions.

Explaining their decision to select RedPrairie, Dale Nice, Hatfield's Manager of Warehousing stated: "We had a number of issues unique to the meat packing industry that were critical to our success. We didn't want to be a beta site for someone's entry to this industry. RedPrairie had a lot of experience working with food and meat packing customers. They understood our environment, terminology and requirements."

Hatfield and RedPrairie are implementing RedPrairie's DLx® Warehouse WMS at Hatfield's main production facility in Hatfield, PA using The RedPrairie Approach, an implementation methodology totally focused on achieving customer results. This will be followed by the roll out of RedPrairie's visibility, extended distribution, quality assurance and product recall capabilities at Hatfield's two other production facilities in Pennsylvania and Massachusetts. Hatfield may roll these systems out to key third party logistics providers (3PLs) and co-packers, as well. The goal is to drive information flow across their entire supply network to increase inventory accuracy and distribution efficiency to support their growth plans.

"Hatfield has a dynamic 5-year plan for growth that emphasizes the need for greater information flow to increase efficiency and accuracy," said Nice. "With the food industry's focus on safety, information is as important as product for our growth plans to succeed. We need to know which customers received what products when, right down to the case level. RedPrairie's systems are the foundation on which we'll build the support for these information requirements."

But accuracy and efficiency are not the only reasons why improved information flow will drive growth at Hatfield. Commented Woelkers: "Excelling in customer service is our key competitive edge. We have a heritage of quality products and service. Our goal is to comply with all of our customers' specifications and be able to react quickly when customer demands change. The new system will be a key part of our ability to accomplish this."

Noted John Jazwiec, RedPrairie Company Results Leader: "The meat packing industry has come under intense public scrutiny recently due to several high profile product recalls. But the fact is that this industry has always had unique distribution and information flow requirements that require specialized technology support. We have been helping meat packing and other food companies to address these daunting challenges for years."

Added Susan Rider, RedPrairie Sales Results Leader, "What has changed is the ability of technology to facilitate greater sharing of information across the supply network. With our new applications for extending distribution support out to suppliers, 3PLs and remote product facilities, as well as our visibility and command and control tools, we are helping customers like Hatfield meet the expanding information capture, dissemination and response requirements of the Internet-connected world."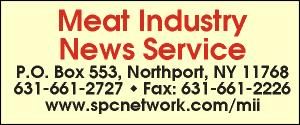 E-mail: sflanagan@sprintmail.com