021132 Earnings for Hormel Fall Slightly In Q4
November 27, 2002

Austin, MN - Hormel Foods Corp. said that its fourth-quarter earnings fell 1.2%, in part because it was paying higher prices for hogs. The maker of Spam earned $68 million, or 49 cents a share, in the quarter ended Oct. 26, down from $68.8 million, or 49 cents a share, a year earlier.

The results met the consensus estimate of analysts surveyed by Thomson First Call.

Sales for the quarter totaled $1.04 billion, down from $1.06 billion in last year's fourth quarter.

"Fiscal 2002 was very challenging," said Joel W. Johnson, Hormel president and chief executive officer. "Focusing on brand building, growing high-potential businesses, truly serving our customers, carefully managing cash and debt and maintaining transparent financial reporting is not new for us, but has never been more critical."

Refrigerated products declined 6% to $516 million because of lower pork markets and the planned discontinuation of some products.

But grocery products are where Hormel makes the most profit. Operating profit for the quarter in the grocery segment rose 12% to $64.1 million; refrigerated foods fell 27% to $17.7 million and turkey products fell 31% to $19.9 million.

For the full year, Hormel earned $189.3 million, or $1.35 a share, up 4% from $182.4 million, or $1.30 a share, a year earlier.

"We are cautiously optimistic about our prospects for fiscal 2003," Johnson said. "We expect to manage within unfavorable, but gradually moderating, market forces through the first half of the year."

He added that Hormel plans to improve in fast-growing areas, including ethnic foods, deli and food service.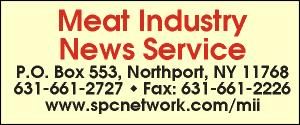 E-mail: sflanagan@sprintmail.com