021121 Red Meat Increases Risk of Colorectal Cancer
November 16, 2002

HealthScoutNews - An increase in colorectal cancer among Chinese people living in Singapore can be linked to a diet high in red meat and low in vegetables.

That's the claim of a study in the Dec. 1 issue of Cancer, which is available online today.

The study also suggests colorectal cancer risk is slightly reduced when a high red meat diet also includes a diet high in vegetables. A diet low in vegetables by itself raises the risk of colorectal cancer.

The risk of colorectal cancer was not significantly affected by other meats like pork or chicken or by seafood, the study says.

The study included 121 Chinese people with a history of colorectal cancer and 222 healthy Chinese control subjects. Researchers used questionnaires to collect data on food intake over the previous three years, including how often and how much the people ate of common food groups such as meats, fruits and vegetables.

After adjusting for age, smoking, gender and family history, the study found people with a high intake of red meat had 2.2 times the risk of colorectal cancer.

Since 1968, colorectal cancer rates in Singapore have doubled and are now the highest in Asia. Chinese people represent 77 per cent of the Singapore population and account for 91 per cent of colorectal cancer cases in the country.

Over the years, the diet of many Chinese people in Singapore has shifted from eating many vegetables and moderate amounts of meat to eating more red meat and fewer vegetables.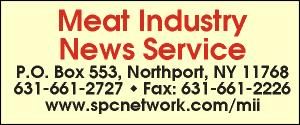 E-mail: sflanagan@sprintmail.com