021119 Stay Granted to Continue Pork Checkoff
November 15, 2002

Des Moines, IA - Collections and programs of the Pork Checkoff will continue through a stay granted Nov. 15, 2002, by the United States Court of Appeals for the Sixth Circuit.

A Federal District Court in Michigan found the Pork Checkoff unconstitutional on Oct. 25, 2002. The stay was requested by the U.S. Department of Justice to allow the government time to appeal the decision of U.S. District Court Judge Richard Enslen. The stay allows the Pork Checkoff to continue while the Court of Appeals considers the appeal of the Michigan ruling.

"Since producers began the Pork Checkoff in the mid-1980s, pork consumption has increased by 21%, research has been conducted on key producer issues and pork has become the fastest growing meat category in America's restaurants," said Craig Christensen, a pork producer from Ogden, Iowa, and vice president of the National Pork Board. "You bet we are glad to see this program continue. The Pork Checkoff provides the tools we all need on our farm, but don't have time or resources to do individually."

Christensen said: "The Pork. The Other White MeatŪ advertising campaign is just one example of what the Pork Checkoff has done to help increase American consumers' demand for pork." The Pork Checkoff also has played a major role in transforming the United States from a net importer of pork to a net exporter. University of Missouri studies have shown that the export program alone has added more than $2 to the sale price of hogs.

"We will now await the ruling of the Appeals Court so we can continue to build on the accomplishments of the promotion, research and consumer information on behalf of U.S. pork producers," Christensen said.

National Pork Board has responsibility for Checkoff-funded research, promotion and consumer information projects and for communicating with pork producers and the public. Through a legislative national Pork Checkoff, pork producers pay an assessment of $0.40 on each $100 value of hogs sold. The Pork Checkoff funds national and state programs in advertising, consumer information, retail and foodservice marketing, export market promotion, production improvement, technology, swine health and pork safety.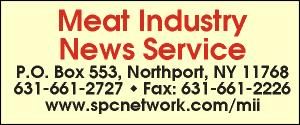 E-mail: sflanagan@sprintmail.com