021102 Listeria Link Puzzles Investigators
November 5, 2002

Philadelphia, PA - Investigators who had traced a nationwide outbreak of food poisoning to a Pennsylvania factory have discovered the same strain of potentially deadly bacteria at a poultry plant 30 miles away in New Jersey.

The national Centers for Disease Control said last month that a Wampler Foods plant in Franconia was responsible for a listeria outbreak that killed seven people and sickened 50.

But a batch of listeria genetically indistinguishable from that found at the Wampler plant turned up in a sample of deli meat at J.L. Foods in Camden, N.J., the CDC said.

CDC spokesman Tom Skinner said authorities are investigating whether "a common source product," such as the same batch of raw turkey meat or tainted packaging materials, was used at both plants.

The U.S. Department of Agriculture plans to test two more meat processing plants for listeria this week, spokesman Steven Cohen said. He declined to say which.

Wampler spokesman Ray Atkinson said Friday's discovery raises doubts about whether the Franconia facility was to blame.

"We believe that this finding suggests that the outbreak may have another source, and this is consistent with what we have been saying all along," he said.

Also Monday, a 98-year-old doctor sued Wampler Foods after being hospitalized for two months with listeriosis. Lawyers for Frank Niemtzow said genetic tests proved he was made sick by bacteria found at the Wampler plant, which is owned by Pilgrim's Pride.

The lawyers are seeking class-action status for the suit, which demands refunds for people who bought tainted Wampler products, and punitive and other damages.

Wampler officials declined to comment on the suit, but Atkinson said he was unaware of any test linking any of the illnesses to a Wampler plant.

Niemtzow, a physician for 60 years in Freehold, N.J., was the obstetrician who attended the birth of rock star Bruce Springsteen. He now lives in Florida and Philadelphia.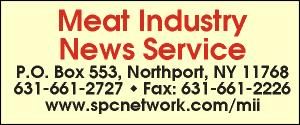 E-mail: sflanagan@sprintmail.com