021009 Morrell Ordered to Pay $1.5 Million
October 6, 2002

Sioux City, IA - A federal court jury has ordered John Morrell & Co. to pay $1.5 million to a female employee who had sued the meatpacker for sexual harassment and retaliation.

Rita Baker filed the suit in January 2001 charging that she had been sexually harassed while working in Morrell's Sioux City plant and that managers did nothing to eliminate a sexually hostile working environment after she complained.

The eight-member jury awarded Baker almost $873,000 in compensatory damages and $650,000 in punitive damages.

The jury ruled in favor of John Morrell on a charge of disparate treatment of Baker.

Baker said in the suit that she was continually touched inappropriately by male co-workers and was the constant subject of sexually related comments. She said that after she complained to managers, male co-workers began making her job harder by sending boxes of meat down a conveyor belt sideways or backward.

The case went to trial Sept. 23.

John Morrell is a unit of Smithfield Foods, which is based in Smithfield, Va.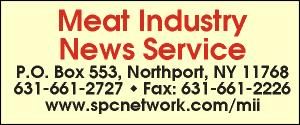 E-mail: sflanagan@sprintmail.com