020908 Hormel and Excel Sign Joint Venture
September 3, 2002

Austin, MN (Business Wire) - Hormel Foods Corporation and Excel Corporation, a wholly-owned subsidiary of Cargill, Incorporated, announced Hormel Foods and Excel have signed the agreement to form a joint venture to market certain nationally branded fresh case ready beef and pork under the existing Hormel Always Tender brand name to retailers in the United States. The two food companies are combining their marketing and distribution capabilities and expertise through this joint venture to provide case ready pork and beef solutions that address consumers' and retailers' needs

The joint venture, named Precept Foods, LLC, will be based in Austin, Minn.

The current Hormel Always Tender brand primarily includes pork. Cargill's Excel Corporation subsidiary will supply fresh beef and pork to the nationally branded program, resulting in an enhanced assortment of fresh case ready pork and beef products that will be distributed in retail supermarkets and club stores nationwide under the Hormel Always Tender brand name. Each company will independently maintain existing meat programs, such as Hormel Foods further-processed meat products and Excel's branded premium meat programs.

Precept Foods, LLC's products - fresh pork and beef case ready products - will benefit from recognized, patented processes from both Hormel Foods and Excel, which deliver a superior product to the consumers' table.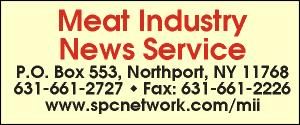 E-mail: sflanagan@sprintmail.com