020850 Hardee's Unveils Ads for the Six Dollar Burger
August 30, 2002

St. Louis (PRNewswire) - As the number of Six Dollar Burgers sold nationwide fast approaches the 25 million mark, Hardee's Food Systems, Inc., today launched new advertising for its premium burger, priced at $3.95. The ads, set to run in 79 markets nationwide, feature The Six Dollar Burger's 2002 Restaurant Business Award for Best New Burger. New in-restaurant advertising signage, also featuring the award, will be introduced at participating restaurants as well.

The Six Dollar Burger consists of a nearly half-pound, charbroiled beef patty, two slices of American cheese, mayonnaise, ketchup, mustard, red onion, bread-and-butter pickles, tomato and lettuce on a toasted sesame seed bun. Since its launch in November 2001, the burger has become the most popular new product introduced in Hardee's history.

The three new television ads, titled "Falling Bags," "Toys," and "No," follow the creative direction of other recent advertising by the chain, using humor to highlight the premium quality of the product. Hardee's advertising agency of record, Mendelsohn|Zien of Los Angeles, developed and executed the spots.

"We are very pleased to have introduced a product that has received not only critical acclaim with the Best Burger Award for 2002, but also the approval of our guests," said Larry Brayman, director of corporate affairs for CKE Restaurants. "It's rewarding to see an excellent product receive this kind of response and recognition, and we wanted to share the news in our advertising."

CKE Restaurants, Inc. (NYSE: CKR - News), through its subsidiaries, franchisees and licensees, operates more than 3,400 restaurants, including 2,325 Hardee's restaurants; 979 Carl's Jr. restaurants; 100 La Salsa Fresh Mexican Grills; 34 Green Burrito restaurants; and 27 Timber Lodge Steakhouses, in 44 states and 15 foreign countries.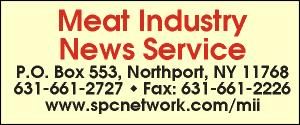 E-mail: sflanagan@sprintmail.com