020748 ConAgra Recalls Huge Amount of Beef
July 20, 2002

Washington - ConAgra Foods Inc. launched the nation's second-largest recall of ground beef after the U.S. Agriculture Department said the meat may be contaminated with a deadly bacteria that sickened at least 16 people.

The decision by ConAgra to pull a total of nearly 19 million pounds of fresh and frozen ground beef at the height of the summer barbecue season ranks second to Hudson Beef's record recall of 35 million pounds of meat in 1997. The news sent ConAgra shares down 7%.

ConAgra is the second-biggest U.S. supplier of food and meat after Kraft Foods Inc. . Its brand names include Hunt's Ketchup and Healthy Choice Meals.

The U.S. Centers for Disease Control said it confirmed at least 16 people were sickened by the ConAgra beef in Colorado, California, Michigan, South Dakota, Washington and Wyoming. Another six illnesses were under investigation.

ConAgra agreed to recall almost 19 million pounds of beef, after first pulling 354,200 pounds from the market on June 30. The ground beef was sold nationwide.

"This action is being taken as a cautionary measure to ensure the protection of public health," Agriculture Secretary Ann Veneman said. "Public health is our number one priority."

E. coli O157:H7 can cause bloody diarrhea, dehydration and kidney damage. Children and the elderly are the most at risk.

CONSUMERS URGED TO CHECK REFRIGERATORS

The 19 million pounds of additional meat recalled was produced at the company's Greeley, Colorado, plant between April 12 and July 11, the USDA said.

The label on all recalled meat bears the code "EST. 969" inside the USDA seal of inspection. Consumers should return the meat to a grocery store or discard it.

A ConAgra spokesman declined to comment on the recall.

"We have no way of knowing for sure how much (beef) is in consumers' hands," said USDA Undersecretary Elsa Murano.

Some meat was sold at Safeway and Kroger stores, although USDA refused to detail how much.

Safeway said about 500 of its stores in northern California, Denver and Chicago were affected, and it later added it was recalling ground beef with July 3-July 15 sell-by dates - - which is no longer on store shelves -- from northern California, Nevada and Hawaii stores.

Supermarket chains, including Albertson's Inc. scrambled to check for any recalled products.

Wal-Mart Stores Inc., the world's largest retailer, said it was pulling two of the ground beef products from its discount stores and its Sam's Club wholesale stores. It asked customers who purchased the recalled fresh or frozen meat to return the product for a refund or replacement.

Analysts said the huge recall was unlikely to slow consumer demand for grilled burgers at summer picnics.

"I continue to be amazed at the capacity of the American consumer to brush off most recalls," said Credit Suisse First Boston food analyst David Nelson. "I've yet to see Americans get overly concerned about this type of thing."

The recall also raises questions about ConAgra's pending deal to sell off more than half its fresh meat processing operations to a private investor group led by Hicks Muse Tate & Furst. The deal, valued at about $1.4 billion, was intended to allow ConAgra to focus more on branded consumer products.

USDA CRITICIZED

Consumer groups and some Democrats criticized the Bush administration for delays in recalling the ConAgra beef.

The USDA admitted that in June, it waited 10 days after federal meat inspectors first detected the E. coli bacteria in a ConAgra sample before notifying the company.

An embarrassed USDA this week said it would require federal inspectors to immediately alert a beef company when samples test positive for E.coli. Inspectors will no longer wait until an investigation is complete before notifying a company.

Carol Tucker Foreman, food policy director for the Consumer Federation of America, said the USDA was more concerned about protecting big agribusiness companies than consumers.

The National Cattlemen's Beef Association, which represents ranchers, said the recall showed the need for meat companies to invest in irradiation technology that uses low doses of electrons or gamma rays to destroy dangerous bacteria.

The American Meat Institute, representing U.S. meat processors, played down the massive recall saying it was likely most of the product was already safely consumed.

The largest U.S. food recall for E. coli 0157:H7 contamination was in the summer of 1997.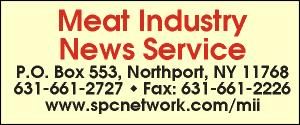 E-mail: sflanagan@sprintmail.com