020639 Probe of Pig Disease Outbreak in Britain
June 29, 2002

London - Veterinarians have begun investigating several rural areas in England after six pigs tested positive for Aujeszky disease, a livestock ailment less threatening than foot-and-mouth, the government said.

The ailment, which mainly strikes pigs, is not as contagious as foot-and-mouth or swine vesicular disease and is generally spread slowly from pig to pig, the Department of Environment, Food and Rural Affairs said Friday.

The discovery was made at Cheale Meats, the same abattoir where the first case of foot-and-mouth was detected in last year's epidemic, which led to the culling of more than 4 million animals and shut British meat and livestock out of export markets.

The department said the fact that the two diseases were discovered at Cheale Meats, one of the country's major abbatoirs, is regarded as a coincidence and no blame was being attached to the firm.

Aujeszky's disease, first discovered in cattle in the United States in 1813, turned up in Britain in 1979 and the last outbreak was in 1989. Two years later, Britain was declared officially free of it.

The disease also has been found in continental Europe.

Routine surveillance testing in pigs in England recently found the six positive results for Aujeszky's disease at the abbatoir in Brentwood, Essex, southern England.

That prompted investigations on several premises in Lancashire, Cheshire, West Yorkshire, North Yorkshire, West Sussex and Lincolnshire to establish the significance of these results.

At this stage, the department cannot rule out that the blood tests may be the result of a false laboratory readings or a contamination of samples.

The State Veterinary Service is doing a clinical examination on the premises, including looking at breeding and production records. Several pigs at each location will be blood-tested.

Animal Health Minister Elliot Morley said the investigation was not a major cause for concern at this stage.

"We have been in touch with the industry, and will make the results of the samples available in due course," he said.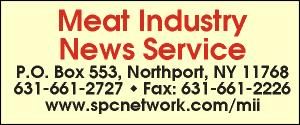 E-mail: sflanagan@sprintmail.com