020616 Wendy's Reports Robust Sales in May
June 12, 2002

Dublin, OH - Wendy's International, Inc. announced that its strong sales trends continued in May. The Company had reported preliminary sales for the month on May 31.

For the May period:

* Same-store sales at Wendy'sŪ U.S. company restaurants grew 7.1%. The month included Wendy's all- time record sales week and a very strong final week.

* Tim HortonsŪ same-store sales grew 9.4% in Canada and 12.7% in the U.S.

"May was an excellent month for our brands as we continued to focus on restaurant operations and serving quality food," said Chairman and Chief Executive Officer Jack Schuessler.

"At Wendy's, our transaction growth for the month was more than 4.5%, and our same-store sales are up 6.3% quarter to date. We continued to promote our new Garden Sensations(TM) salads and it's clear that customers love the quality ingredients and variety of toppings.

"At Tim Hortons, our strawberry theme promotion for muffins and tarts, as well as our focus on coffee, connected with customers," Schuessler added.

99% of Term Convertible Securities (TECONS) converted

The Company announced that 99.9% of the outstanding $2.50 Term Convertible Securities, Series A, (TECONS(SM)) issued by Wendy's Financing I (a business trust owned by the Company) were converted into common shares by the end of business on June 7, 2002. The redemption date is June 10.

As of March 31, 2002, there was $200 million in TECONS outstanding.

With the conversion, management believes there will be several positive effects:

- There will be no negative impact on diluted earnings per share as the shares are already included in the Company's diluted EPS calculation.

- There will be an increase of the float in common equity by 7.6 million shares.

- There will be an increase in the Company's market capitalization by about $280 million to $290 million, based on recent market prices.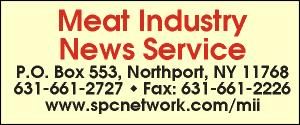 E-mail: sflanagan@sprintmail.com