020610 Perdue to Donate 1 Million Pounds Annually
June 7, 2002

Salisbury, MD - Perdue Farms announced an initiative that will put more than one million pounds of protein-rich poultry products on the plates of hungry Americans each year. Perdue's promise for the annual contribution represents the largest formal corporate initiative by a meat or poultry industry producer in the 20-year history of America's Second Harvest program.

Also today, in an effort to raise awareness of hunger in the country, Perdue Farms is participating in the Maryland Food Bank's National Hunger Awareness Day truck parade. A Perdue Farms tractor-trailer will join in a convoy of trucks from Raven's Stadium circling downtown Baltimore.

"In a country as full of hope and prosperity as ours, we feel strongly that no one should go hungry," said Jim Perdue, Chairman and CEO of Perdue Farms. "Protein-rich products, especially poultry and meat, are among the donations most needed by food banks. This is why we have decided to donate a minimum of one million pounds of poultry products to America's Second Harvest each year."

"Last year, when Perdue donated more than 3.5 million pounds of poultry to America's Second Harvest, with much of it earmarked for Ground Zero programs, we were sure that there was no bigger statement a company could make," said Bob Forney, President and CEO of America's Second Harvest. "Yet today, Perdue has broken new ground with this donation, and we hope it will serve as a model for companies in all areas of the food industry."

Perdue Farms was awarded America's Second Harvest's "Hunger's Hope Award" -- presented to the most outstanding New Donor of the Year -- just two days before the September 11, 2001 attacks. The award recognized the company for being the most generous new corporate contributor to America's Second Harvest's network of more than 200 foods banks and food rescue organizations. That network helps to feed more than 26 million Americans annually.

During the award ceremony last year, Mr. Forney recognized not only the size of the donations but Perdue's success in developing a new program that makes it easier to donate perishable products and emphasizes safe-handling practices.

Then, in the wake of September 11, the company donated more than $400,000 worth of poultry products to Ground Zero's Nino's Restaurant, which fed rescue and clean-up workers through May of this year, and to armed forces groups overseas in Afghanistan for Thanksgiving and Christmas.

About Perdue Farms, Inc.

Perdue Farms, Inc. is a leading international food and agricultural business with customers in more than 40 countries. The company produces quality branded poultry products for domestic and international retail and foodservice customers. Founded in 1920 in Salisbury, Md., Perdue Farms remains privately held and has been family run for three generations.

For more information about the company, contact Tita Cherrier, Perdue Director of Public Relations, at 410-860-4407 or visit http://www.perdue.com .

About America's Second Harvest

America's Second Harvest is the nation's largest domestic hunger-relief organization with a national network of more than 200 regional food banks and food-rescue programs, serving all 50 states and Puerto Rico. It distributes 1.4 billion pounds of donated food and grocery products annually.

The America's Second Harvest network supports approximately 50,000 local charitable agencies, operating more than 94,000 food programs, including food pantries, soup kitchens, women's shelters, Kids Cafes and Community Kitchens. These local organizations provide food assistance to 23 million hungry Americans, including more than nine million children and almost three million seniors each year.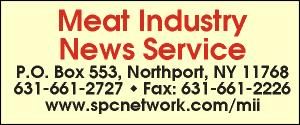 E-mail: sflanagan@sprintmail.com