020604 Wendy's Buys Mexican Chain Baja Fresh
June 1, 2002

New York - Restaurant operator Wendy's is adding some Mexican flair to its menu, as the hamburger chain said on Friday it would buy the owner of Baja Fresh Mexican Grill, moving into the booming segment of fast-food chains that serve premium fare.

Wendy's International Inc., the nation's third-largest hamburger chain behind McDonald's Corp. and Burger King, said it will pay $275 million in cash for Fresh Enterprises, a fast-growing Mexican chain based in Thousand Oaks, California. It will also issue new debt to finance the purchase.

Founded in 1990, Baja Fresh restaurants feature made-to-order Mexican food, including tacos, burritos and quesadillas with all-you-can eat salsa bars. Dublin, Ohio-based Wendy's said the deal would help it capitalize on soaring popularity of quick-casual restaurants combining moderately priced fare with fast- food service.

Baja Fresh would be the third franchise under the Wendy's umbrella, along with its flagship hamburger chain and the Tim Hortense coffee and baked goods chain.

Wendy's said it was drawn to Baja Fresh's established brand, strong sales record, and long-term growth potential. Wendy's Chief Executive Jack Schuessler said Baja Fresh outlets do not compete directly with the Wendy's hamburger chain, and will diversify the company's restaurants.

"Baja Fresh has proven itself for national growth potential. We clearly see Baja Fresh on the upswing of our growth cycle," Schuessler told analysts at a meeting in New York.

McDonald's had also expressed interest in acquiring Thousand Oaks-based Baja Fresh, Greg Dollarhyde, chief executive of the Mexican food chain, said. A McDonald's spokesperson could not immediately be reached for comment.

BAJA FRESH EXPANSION PLANS

Baja Fresh said the Wendy's bid exceeded what the company had hoped to raise through an initial public offering. Dollarhyde said the deal would help accelerate the company's expansion nationwide, as it plans to open from 600 to 700 restaurants by 2007.

Shares of Wendy's rose 5.5%, or $1.97 on Friday, to close at $37.97 on the New York Stock Exchange, near their 52-week high of $38.50. They have gained about 30% so far this year, compared with a 17% rise in the Standard & Poor's Restaurant Index.

Analysts said Baja Fresh was a good match for Wendy's.

"I'm very pleased to see this is what they're adding. It fits into Wendy's portfolio, and it's a very attractive concept from the customers' point of view," Salomon Smith Barney analyst Mark Kalinowski said. "Concept-wise, they couldn't have bought anything better."

Wendy's said the acquisition would reduce its earnings by 2 cents to 4 cents per share in both 2002 and 2003, but add to earnings by the same amount in 2004. Looking ahead, Wendy's projected the acquisition would add between 5 cents to 7 cents in 2005, from 10 cents to 12 cents in 2006, and from 13 cents to 15 cents in 2007.

Wendy's also said it is on track to post earnings of $1.85 to $1.90 a share in 2002, in line with its guidance on April 8, and that its long-term earnings growth outlook remains in the range of 12% to 15%. The initial earnings dilution would not hurt its immediate profit outlook, it said.

To finance the acquisition, Wendy's will use existing cash and issue new debt from $175 million to $225 million. The deal will boost the company's debt-to-capital ratio to 37% from 29%, but Wendy's said Standard & Poor's and Moody's should maintain investment-grade ratings on the company.

MORE THAN JUST HAMBURGERS

Wendy's, which has been on the prowl for acquisitions for more than a year, does not plan to make any more large acquisitions for the next 12 to 18 months.

"In the near term, we will focus on vertical integration and investments in smaller companies," Schuessler said. "We won't do a deal if we lose our investment grade rating, which is very important to us."

Fast-food chains have been diversifying beyond their traditional fare, trying to capitalize on the soaring popularity of quick-casual dining.

McDonald's, which also owns Donato Pizzeria, Boston Market homestyle restaurants, and a majority stake in Mexican chain Chipotle, last month signed a joint venture deal with Fazoli's, a quick-casual Italian chain.

Over the long term, Baja Fresh envisions having between 1,100 to 1,500 restaurants in the United States and Canada, Dollarhyde said. The company now owns 169 restaurants nationwide, with 101 outlets located in California.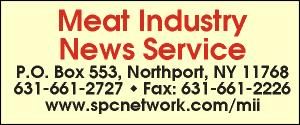 E-mail: sflanagan@sprintmail.com