020539 Sara Lee Sees Revenue Sliding
May 22, 2002

New York - Pulled down by declines at its hosiery operations, Sara Lee Corp., expects fiscal 2003 revenue for its intimates and underwear operations to fall 1%.

The revenue decline masks a higher, sustainable growth rate of 3% at its combined "core" businesses, which include intimates, underwear and socks, said Carey McMillan, chief executive of Sara Lee Branded Apparel, in a presentation late Tuesday to analysts gathered at the division's Winston-Salem, N.C., headquarters.

Also, despite the expected revenue decline, the division should post "double-digit" operating profit growth, McMillan said. The bottom line will be helped by a number of cost-saving initiatives — some of which were recently implemented, while others will occur in the coming year, he said.

Sara Lee expects to increase its media spending budget by 25% in the coming fiscal year. McMillan did not disclose the fiscal 2002 media budget for intimates and underwear.

Sara Lee, based in Chicago, has yet to disclose its fiscal 2003 earnings targets for the entire corporation.

For much of the past fiscal year, the intimates and underwear business has focused on revamping its operations. The efforts resulted in the divestiture of businesses that once accounted for 7% of the division's sales, large-scale layoffs and several plant closures.

The expected decline in revenue reflects the sales lost by those efforts.

Within the division, the $2 billion global intimates business is expected to grow at a rate of 5% a year, McMillan said. The company's U.S. underwear business should see revenue rise between 2% to 3%, and U.S. sock sales should grow at least 3% to 4%, if not more, he said.

However, fiscal 2003 sales may be flat at the company's activewear division as Sara Lee prepares to revamp this segment without recording additional restructuring charges. Activewear includes the company's Champion and Hanes T-shirt businesses.

According to McMillan, Sara Lee expects to reap the benefits of these planned investments in fiscal 2004 and 2005.

Sara Lee, a consumer packaged goods company, makes baked goods, packaged meats and apparel. Its leading brands include Sara Lee cakes, Ball Park franks, Chock Full O'Nuts Coffee, Hillshire Farm sausage, Hanes and Playtex. It also sells cosmetics and jewelry.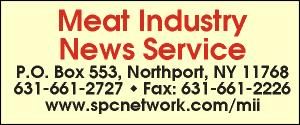 E-mail: sflanagan@sprintmail.com