020443 Ranchers Say Mcdonald's Doesn't Need Imported Beef
April 30, 2002

Omaha, NE - Telling his 8-year-old daughter she can't have Happy Meals anymore was hard for Nebraska rancher Tom Whitehill.

Kylee Whitehill is no longer allowed to eat at McDonald's because her parents won't let her as long as the company is joining other fast-food giants like Burger King in using imported beef.

"We won't - period. We tried to explain to her that basically that is one more step of trying to put us out of business," said the 50-year-old Whitehill, who owns a 200 cow/calf operation outside the north-central Nebraska town of O'Neill.

Nebraska agricultural officials are trying to convince McDonald's that importing beef is not necessary.

The fast-food giant is testing imported beef from Australia and New Zealand in about 400 of its 13,000 U.S. restaurants. The company said U.S. ranchers can't supply the chain with meat that's lean enough.

McDonald's uses grass-fed Australian beef, which is often leaner than U.S. grain-fed beef, in many chains outside the United States. The company is the single largest buyer of Australian and U.S. beef.

McDonald's spokesman Walt Riker said people have been jumping to the wrong conclusions.

"This remains a small test that involves less than one percent of the beef we use and is driven only by a well-documented shortage of lean beef in the U.S.," Riker said in a statement Tuesday.

Although no McDonald's restaurants in Nebraska are serving the imported beef, the Nebraska Farmer's Union and Nebraska Cattlemen are trying to persuade the company to find ways to use domestic meat.

"Anytime you have a major company that's in the past used 100 percent American, born and raised beef products say they're going to test market this other beef ... that's not good," said John Hansen, president of Nebraska Farmer's Union. "There's a legitimate frustration over this situation."

Ranchers will find ways to get McDonald's the lean meat they need, he said.

The Nebraska Cattlemen plan to present McDonald's with research from a University of Nebraska-Lincoln study. The muscle profiling research, funded through the National Cattlemen's Beef Association, identifies the parts of beef carcasses that are underutilized, said Chris Calkins, the professor in charge of the study.

McDonald's also has been invited to send a representative to a Nebraska Cattlemen conference in June in Cozad to discuss beef purchasing plans.

The National Farmer's Union recently used a former McDonald's slogan in a letter to McDonald's Chairman and Chief Executive Officer Jack Greenberg, asking the company to reconsider its use of imported beef. The letter says U.S. beef producers "Deserve a break today."

"We reminded McDonald's that our beef producers are struggling," Hansen said. "When they do this kind of thing - that is not being a good corporate citizen."

Until McDonald's decides whether to continue using imported beef, Whitehill said a number of producers he knows will not be eating at the "Golden Arches."

"They'll say to heck with it," Whitehill said. "They've been hammered so many times."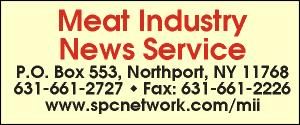 E-mail: sflanagan@sprintmail.com