020439 Southern Farmers Focus on Goat Meat
April 30, 2002

Albany, GA - Charles Batten turned a few goats loose on his cow pastures 10 years ago to keep weeds down. They do a great job, but these days they're more valuable for their meat.

Demand for goat meat has grown steadily in the past 10 years and Batten, whose herd has grown to about 200, is banking that it will continue as more immigrants move here from goat-eating regions such as Latin America, the Caribbean, Africa and the Middle East.

"Consumers of goat meat are practically everywhere except North America and we're working on them," said Batten, president of the new Sunbelt Goat Producers Cooperative.

Farmers throughout the South are turning to goats for diversification and relief from the low prices they have been getting for traditional crops such as cotton.

Texas, Tennessee, Alabama, Mississippi, Georgia, Florida, Oklahoma and North and South Carolina already supply the bulk of the nation's meat goats, said Will Getz, a goat specialist at Georgia's Fort Valley State University.

Texas is the nation's largest producer, with Tennessee and Georgia taking turns for second place. To promote production in Kentucky, the state's agricultural development board provides cash assistance to farmers who want to diversify. In North Carolina, goat sales have soared to at least $6.6 million annually.

Goat meat is lean and higher in protein than chicken. And it costs about the same as beef - around $2.89 a pound for cubes, $7.89 for chops.

"It's mild meat," Batten said. "Most animals are harvested at less than a year old while the meat is light in color and very tender."

Demand for the meat is estimated to be growing at a rate of 10 to 15 percent per year. Experts say domestic consumption far exceeds production. Many new immigrants are shocked when they can't find goat in the grocery store.

It is prepared in many different ways, including goat kabobs, curried goat, jerked leg of goat, grilled goat chops and barbecued goat steaks.

University of Georgia specialists estimate that between 2,500 and 3,000 goats are needed each week just to supply the Atlanta market.

Batten said the co-op should be able to handle 1,000 per week.

"In the Atlanta area, there's a tremendous market," said Chris Ferland of the university's Center for Agribusiness and Economic Development. "There's a Baltimore market and a huge New York market. Goat buyers are coming to Georgia and Alabama and they're trucking them to the Northeast."

So far, the co-op has attracted 198 shareholders, each agreeing to provide a certain number of goats per year, Batten said. By forming a co-op, producers get to keep a larger share of the profits - money that would have been paid to processors and other middlemen, he said.

The co-op's goat and sheep processing plant in Tennille should be up and running in time for its first shipment of goats in July.

Although goat ranching could be a profitable venture, Ferland said it's not likely to take over some of the mainstream crops.

"It's not going to replace row crops," he said. "But if done right, there are opportunities to make the goat enterprise profitable."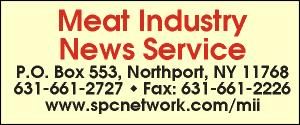 E-mail: sflanagan@sprintmail.com