020406 ConAgra Profit Jumps 48 Percent
April 2, 2002

Chicago - ConAgra Foods Inc. said fiscal third-quarter net earnings climbed 48%, recovering from a disappointing quarter a year ago.

The company -- the No. 2 U.S. foodmaker behind Kraft Foods Inc. -- also declined to comment about the future of its fresh meat operations, which have been on the auction block for months, according to sources familiar with the situation.

Omaha, Nebraska-based ConAgra said it earned $170.8 million, or 31 cents a share, in the period ended Feb. 24, compared with $115.8 million, or 22 cents, a year ago.

The results exceeded Wall Street analysts' average estimate of 30 cents per share, as polled by Thomson Financial/First Call. In last year's third quarter, ConAgra suffered a sharp earnings decline, hurt by higher energy costs, a weakening economy and unfavorable commodity trends.

In this fiscal year, the company said it expects to "modestly exceed" Wall Street's full- year expectations of $1.42 a share, helped by improvements in the overall economy and a better focus on its branded products.

"They just had a rebound from last year's very difficult period in meat processing," said Prudential Securities food analyst John McMillin, noting that two years ago ConAgra earned 37 cents a share in the third quarter. "You can criticize ConAgra by saying their third-quarter earnings are still below where they were five years ago, but there has been some improvement in the quality ... as the branded (foods) percentage has increased."

Revenue fell 2%, to $6.24 billion from $6.38 billion.

UNDER PRESSURE

Sales in the food business, which accounts for the bulk of ConAgra's profits, fell nearly 3%, to $5.7 billion, from $5.9 billion a year ago, as gains in retail packaged foods were offset by declines in meat processing and food ingredients.

Sales of retail packaged foods, including brands such as Hunt's ketchup and Peter Pan peanut butter, rose 2.7% to $3.03 billion from $2.95 billion, helped by earlier investments in marketing spending. Several food-service lines showed improvement, ConAgra said, and volumes grew 1%.

Sales in meat processing fell 9%, to $2.28 billion from $2.51 billion, hurt by reduced demand and production declines in the wake of a plant fire.

Food ingredient sales fell 4%, to $411.5 million from $428.3 million after the company closed one of its flour mills.

Sales in ConAgra's agricultural products division rose 6.7% to $523.6 million from $490.7 million, boosted by strong merchandising operations. The unit's operating loss widened to $37.9 million from $34.3 million last year, dragged down by weak demand for fertilizers and farm chemicals.

ConAgra's total operating profit climbed 30%, to $462.9 million from $355.7 million, helped by lower costs. Net interest expense fell 28%, to $94.1 million from $130 million a year earlier. The company said marketing costs were $12 million lower, but it did not provide a year-ago comparison.

SHOPPING FOR MEAT

In recent weeks, investors have focused on the fate of ConAgra's fresh meat business, which has been a drag on profits.

With fresh beef, pork, and lamb operations, analysts believe the business accounts for more than $8 billion, or a third of ConAgra's $27 billion in yearly sales. The company has been in discussions with a private investor group led by Hicks Muse Tate & Furst, which bid to purchase a majority stake in the operations, industry sources said.

At least one analyst has also reported on the possibility of a buyout of the business by No. 1 U.S. pork producer Smithfield Foods Inc. . Smithfield had at one time held discussions with ConAgra, a source familiar with the matter said.

A Smithfield representative said the company was not in discussions with ConAgra and a representative for Hicks Muse was not available for comment.

ConAgra provided its latest official response Thursday.

"Any news that we have will be made available to everyone at the same time," ConAgra said in a public question-and-answer forum on its Web site. It reiterated its policy of not commenting about divestments or acquisitions.

"We think it's time that ConAgra confronted its non-branded products," said Merrill Lynch analyst Leonard Teitelbaum, who raised his intermediate-term rating on the shares to "buy" from "neutral."

"I think there have been willing buyers out there," Teitelbaum said. "It was simply a question of trying to get to terms and price."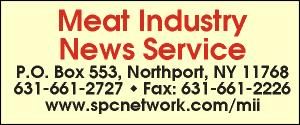 E-mail: sflanagan@sprintmail.com