020140 New Ad Campaign Provides Fresh Look for Lamb
January 26, 2002

San Antonio, TX -- A new advertising campaign for American lamb was unveiled in San Antonio. The new ads are the most significant effort in support of American lamb in nearly a decade and are part of a heightened effort by lamb producers to help build awareness and demand for fresh American lamb products.

Recent research revealed that consumers traditionally think of lamb as a dish served only as an elegant entree at festive holiday meals and other important occasions. The new campaign hopes to show consumers how American lamb has changed in recent times and spotlight the variety of cuts available and the versatility of American lamb, which makes it a unique and delicious addition to any meal occasion. The new ads were developed by Campbell-Mithun in Chicago, the people who turned pork into "The Other White Meat.(r)".

"We are pleased to announce the launch of the new American lamb advertising campaign as a way to help educate consumers about the many benefits of purchasing and enjoying American lamb," said Paul Rodgers, director of marketing for the American Lamb Council. "Research showed us that 76% of consumers don't know there is a difference between American lamb and imported lamb, yet when offered the option consumers overwhelmingly preferred lamb from the United States. Therefore, it is critical for U.S. producers to let consumers know about the benefits of American lamb and these ads are a key part of our overall plan to do just that."

The new ads are one part of a recent effort funded by a grant from the U.S. Department of Agriculture to educate consumers that American lamb offers larger, more tender, milder-tasting cuts of meat. Retail promotions, outreach to the culinary community, a new Fresh American Lamb seal and extensive public relations activities all combine with the ads to create an integrated campaign promoting the benefits of American lamb.

The first wave of the new advertising campaign consists of three print executions, all of which share the tagline: "Meat Lovers Know"(tm)

The three full-page advertisements each feature different American lamb dishes showcasing the wide array of preparation options for American lamb. The ads deliver the message that American lamb makes any occasion special, from backyard barbecues, to family dinners to entertaining at home.

"This is a simple, straight forward concept with some great photography which combine to make the American lamb ads really stand out," said Mark Williams, senior vice president of Campbell-Mithun. "Over time and with continuing support, the 'Meat Lovers Know' line could be for American lamb what 'The Other White Meat' and the milk mustache are for the pork and milk industries."

Consumers can look forward to seeing the new American lamb advertising campaign in national magazines such as Bon Appetit, Cooking Light, Gourmet, and Food and Wine next month.

The American Lamb Council communication program includes a U.S. Consumer Positioning Program, American Lamb Information Center, U.S. Culinary Outreach Program, U.S. Lamb Retail Program and U.S. Identification Program.

The American Lamb Council is a division of the American Sheep Industry Association, a trade organization representing American sheep producers.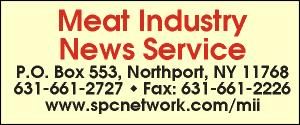 E-mail: sflanagan@sprintmail.com