020139 U.S. Beef Exports to Japan Down 31% in Q4
January 26, 2002

Osaka, Japan - U.S. beef exports to Japan fell 31% in the last quarter of 2001 from a year earlier, reflecting consumers' worries over an outbreak of mad cow disease in Japan, the head of the U.S. Meat Export Federation (USMEF) said.

For all of 2001, exports probably dropped by at least 14% from 2000, when exports hit a record high, Philip Seng, who is in Japan to promote U.S. beef, told a news conference in Osaka, western Japan. He did not give a figure in tonnage.

Sales of beef, both domestically produced and imported, have slowed dramatically in Japan since the first reported case of mad cow disease last September.

"Based on Japanese government statistics, the U.S. Meat Export Federation estimates total (Japanese) beef imports for 2001 will be down 8.5% from 2000," Seng said.

"As you can well guess, most of the declines came in the fourth quarter, where we estimate total imports will be off by more than 26%."

Since the discovery in Japan of bovine spongiform encephalopathy (BSE), commonly known as mad cow disease, consumers have shunned beef partly due to what they say was the government's clumsy handling of the outbreak and distrust in companies dealing with beef.

This week, Japan's sixth-ranked meat packer, Snow Brand Food was nabbed for deliberately labelling Australian beef as Japanese in an attempt to get state cash.

Seng sought to appease Japanese consumers' fears about being exposed to tainted beef, saying all beef imported from the United States carries a statement backed by the U.S. government assuring there is no BSE in that country.

The news conference was also attended by Howard Wetzel, director of the dairy, livestock and poultry division of the U.S. Agriculture Deparment (USDA), who said:

"I want to assure customers here in Japan that we are listening to and addressing their concerns. We are confident that the U.S. has the safest food supply in the world."

USMEF's Seng declined to give an outlook for U.S. beef exports to Japan for 2002, saying it was difficult to predict.

But Suzanne Hale, minister counselor of the U.S. embassy in Japan, said: "I think that we are seeing some recovery in Japanese beef demand... We expect this trend to continue because beef is such an important part of the diet."

Japan's beef imports totalled 632,000 tonnes in the first 11 months of 2001, including 290,000 tonnes from the United States and 305,000 tonnes from Australia.

In 2000, Japan imported 718,000 tonnes, with 348,000 tonnes originating in the United States and 331,000 tonnes in Australia.

The United States supplied 89,705 tonnes of beef to Japan in the fourth quarter of 2000.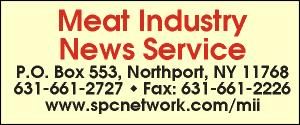 E-mail: sflanagan@sprintmail.com