020122 Seven Charged in Meat Re-Packaging Fraud Scheme
January 19, 2002

Boston, MA - A federal grand jury returned an indictment today charging seven men in connection with two related criminal schemes arising from an illicit meat repackaging operation operating out of a warehouse in Billerica, Massachusetts.

United States Attorney Michael J. Sullivan and Michael Lahey, Special Agent in Charge of the U.S. Internal Revenue Service, Criminal Investigation in New England, announced today that an indictment was returned including charges against LAURENCE B. GREENBURG, age 65, of Jupiter, Florida; HOWARD J. WOOLF, age 40, of Newton, Massachusetts; RUSSELL B. SKIDDS, age 49, of Malden, Massachusetts; WAYNE CIARAMITARO, age 42, of Gloucester, Massachusetts; JOSEPH J. SCRENCI, age 37, of Las Vegas, Nevada; JAMES D. TAYLOR, age 38, of Gloucester, Massachusetts; and JOSE YURITTA, age 50, of Roslindale, Massachusetts.

The indictment charges that during the period of approximately October, 1994 through April, 1998, the defendants conducted an illegal meat repackaging operation at the premises of Woolf International, located at 13A Alexander Road in Billerica, a corporation controlled by GREENBURG. The indictments allege that the defendants purchased tractor truck loads of partially defatted fatty beef tissue and caused the loads to be delivered to the premises of Woolf International after normal business hours. Upon delivery of the beef tissue, it is alleged that the defendants caused the tissue to be repackaged as partially defatted chopped beef, and then sold the falsely relabelled product to Woolf International customers who had ordered and were led to believe they were purchasing partially defatted chopped beef. It is alleged that customers were overcharged due to this re-packaging and false labeling in a total amount exceeding $3.3 million.

The indictment further charges GREENBURG, WOOLF and SKIDDS with conspiracy, mail fraud and money laundering charges relating to their actions in managing the repackaging operation, concealing the profits it generated, and skimming the proceeds of the illegal repackaging operation through a false invoice scheme.

It is alleged that GREENBURG , WOOLF and SKIDDS caused the profits from the illegal scheme to be transferred from the books and records of Woolf International to the bank account of a fictitious entity, International Packers. It is alleged that they effected these money transfers by causing International Packers to generate fictitious invoices to Woolf International, when in fact International Packers did not exist and never provided any product or service to Woolf International. In payment of the "invoice," monies exceeding more than $500,000 were then transferred from the Woolf International account to International Packers and treated as expenses of Woolf International.

It is alleged that GREENBURG, WOOLF and SKIDDS used the International Packers account to pay, among other things: the personal expenses of GREENBURG; the labor expense for the repackaging operation; and extra sums to WOOLF and SCRENCI, sons-in-law of GREENBURG.

Each of the defendants is also charged with filing of false tax returns for not reporting as income to the Internal Revenue Service, the payments from the International Packers account.

If convicted of the conspiracy and mail fraud charges, the defendants each face a five year term of imprisonment and a $250,000 fine. If convicted of the money laundering charges, GREENBURG, WOOLF and SKIDDS each face a twenty year period of imprisonment and a $500,000 fine.

This case was investigated by the U.S. Internal Revenue Service, Criminal Investigation and U.S. Department of Agriculture, Office of Investigation, and is being prosecuted by Assistant U.S. Attorney Lori J. Holik of Sullivan's Economic Crimes Unit.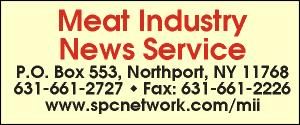 E-mail: sflanagan@sprintmail.com