020106 Tyson Shares Rise on Earnings Report
January 4, 2002

Chicago - Shares of Tyson Foods Inc. rose 8% to their highest level in half a year Friday, after the company said fiscal first-quarter earnings would be better than expected.

Analysts said that lower livestock prices have helped the No. 1 poultry and beef processor weather falling retail prices, while the effect of the Sept. 11 attacks on Tyson's business was not as bad as expected.

"It seems that while there has been some impact on the high end beef market, there has also been a shift into chicken" consumption, Leonard Teitelbaum, food industry analyst at Merrill Lynch said in a research note. Merrill has an intermediate-term "buy" rating on the stock.

Tyson shares were up 92 cents, or 8%, to $12.42 Friday morning on the New York Stock Exchange.

After the market closed Thursday, Springdale, Arkansas-based Tyson said it expected earnings per share for the fiscal first quarter, which ended Dec. 29, to be 34 cents to 36 cents, up from previous guidance of 22 cents to 27 cents. The average analyst forecast had been 25 cents, according to market research firm Thomson Financial/First Call.

"Our position as the leading value added supplier of beef, chicken, and pork to all markets served us well despite the tone of the general economy as we entered the quarter," John Tyson, chairman and chief executive, said in a news release.

Tyson diversified its "protein" business by buying beef and pork processor IBP Inc. last year.

John McMillin, food industry analyst at Prudential Securities, said that while a lot of Tyson's chicken is sold into the food-service industry, "the bulk of IBP is not sold in foodservice, which has been weak, but in retail, which has been satisfactory."

McMillin reiterated a "buy" rating on the stock and raised the 12-month price target to $16 from $15.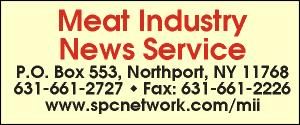 E-mail: sflanagan@sprintmail.com