011236 Lawsuit Against IBP Given Class-Action Status
December 31, 2001

Montgomery, AL - A lawsuit by a group of cattlemen accusing the nation's largest meat packer of cornering the beef market has been granted class-action status.

More than 30,000 cattlemen from across the country could join in the suit against IBP Inc.

Senior U.S. District Judge Lyle Strom in Montgomery broadened the lawsuit Wednesday to potentially include all U.S. cattle producers and owners who sold cattle to IBP on a cash basis since February 1994.

The suit claims IBP illegally cornered the beef market and conspired to fix prices paid on the open market.

"There's no question this is a victory for us, and a victory for cattlemen all over the U.S.," said Birmingham attorney Joe Whatley, who is representing the plaintiffs.

The ruling keeps the five-year-old cattlemen's lawsuit alive and sets up the possibility for a trial in federal court in Montgomery. Without class-action status, the case would have likely been dismissed, lawyers have said.

The suit was originally filed by 10 cattlemen who claimed IBP was violating antitrust laws by buying mostly packer-owned cattle and cattle committed to packers under long- term contracts -- rather than bidding on auction markets -- to unfairly depress prices paid to producers.

The cattlemen are seeking damages based on the amount IBP has allegedly depressed prices, Whatley said, but he could not give an estimated dollar figure because the judge ordered the amount sealed at IBP's request.

The plaintiffs also want the court to limit IBP's cattle supply to increase competition and drive up prices.

IBP, which was acquired by poultry giant Tyson Foods Inc. in September, is reviewing the decision before deciding whether to appeal, said spokesman Gary Mickelson.

"While we are disappointed with the latest development in this long-running case, we remain confident our company will ultimately prevail," Mickelson said. "Numerous studies have proven that changes in cattle prices are due to basic supply and demand, not packer concentration or livestock marketing agreements."

Mike Callicrate, of St. Francis, Kansas, one of the original plaintiffs in the case, said, "This is really a big decision because before, had it not been a class action, the damages don't amount to anything.

"It's going to be the biggest step toward restoring fairness in our marketplace."

Strom ruled in April 1999 that the cattlemen who filed the lawsuit had demonstrated they may be able to prove IBP illegally controlled cattle prices.

U.S. District Judge W. Harold Albritton of Montgomery, Ala., had dismissed the class- action lawsuit in 1998 after the cattlemen asked the court to include all cattlemen who felt they had not received a fair price on the open market. The description of the class was different when Albritton made his ruling.

IBP, which is based in Dakota Dunes, S.D., controls more than a third of the U.S. beef packing industry. The company's total sales of beef and pork last year totaled $14.1 billion.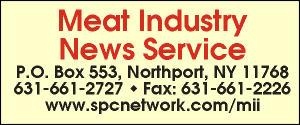 E-mail: sflanagan@sprintmail.com