011128 Tyson Profits Up on Chicken, IBP Purchase
November 12, 2001 Chicago - U.S. meat giant Tyson Foods Inc. said that fiscal fourth-quarter earnings more than doubled, boosted by the acquisition of beef and pork processor IBP Inc. and higher chicken prices.

Tyson, which closed a deal to acquire IBP Inc. at the end of the quarter to create the largest U.S. meat company, reported earnings of $47.5 million, or 22 cents a diluted share, for the period ended Sept. 29 including IBP, compared with $18.0 million, or 8 cents a share, a year ago. Tyson earned 20 cents a share excluding the IBP purchase.

Analysts' estimates ranged from 20 cents per share to 21 cents, with a consensus at 20 cents, according to market research firm Thomson Financial/First Call.

Fourth-quarter sales, including IBP businesses, rose to $5.09 billion from $1.84 billion a year ago.

Tyson acquired 50.1% of IBP stock on Aug. 3 and the remainder at the end of the quarter, so the fourth-quarter and full-year results include slightly more than half of IBP's results for the nine weeks ended Sept. 29, the company said.

"The quarterly numbers are good and they actually raised earnings guidance at a time when some analysts feared that they would lower earnings guidance," Prudential Securities food analyst John McMillin said. "It looks like a favorable release from a company that hasn't had many favorable releases in the last five years."

Tyson raised its fourth-quarter earnings forecast in September and raised its fiscal 2002 forecast range by 5 cents a share on Monday, McMillin said.

Tyson said it expects fiscal first-quarter diluted earnings of 22 cents a share to 27 cents a share, and fiscal 2002 earnings of 95 cents a share to $1.05. Fiscal 2002 forecasts include 100% of IBP's operations.

Analysts' fiscal 2002 estimates ranged from 63 cents a share to $1.00, with a consensus at 86 cents, according to First Call. The first-quarter consensus estimate is 18 cents a share.

For the fourth quarter, Tyson reported beef sales of $2.03 billion, chicken sales of $1.91 billion, pork sales of $508.7 million, prepared foods sales of $633.4 million and other sales of $13.1 million.

Tyson won a bidding war for IBP late last year from No. 1 pork producer Smithfield Foods Inc. Tyson has about 28% of the U.S. beef market, 23% of the chicken market and 18% of the pork market.

Smithfield has since made several acquisitions to shore up its beef business. The latest acquisition, announced in early November, would make Smithfield the No. 4 U.S. beef processor.

For the year, Tyson reported earnings of $87.8 million, or 40 cents a share, compared with earnings of $151.2 million, or 67 cents, in the prior year. Sales rose to $10.75 billion for the year from $7.41 billion last year.

Shares of Tyson rose 10 cents to $10.49 in morning trading on the New York Stock Exchange. The shares have risen about 1% since the attacks on the United States. The Standard & Poor's Food index is essentially flat since then.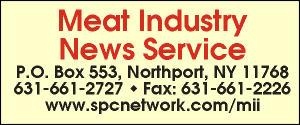 E-mail: sflanagan@sprintmail.com