011122 Holiday Season Poses Greatest Food Challenges
November 12, 2001

Hackensack, NJ - Which time of year poses the greatest challenges to healthier eating? A majority of U.S. adults say it is the winter holiday season, especially those days from Thanksgiving through New Year's Day.

According to findings from the "Filippo Berio Olive Oil Food and Family Traditions Survey," more than half of all respondents said they tend to eat and drink more during the winter holiday season (51%). Also, they report that the foods they eat during this season are more fattening than foods they eat throughout the year (54%). Of those who gain weight during the year, 51% say they gain the most during the winter holiday season. But there is hope for a healthier tomorrow -- more than half (54%) say they wish they could make their holiday favorites less fattening.

Some respondents are making changes to their traditional holiday menus. The survey showed that 23% of respondents cited Christmas and 18% cited Thanksgiving as holidays on which food preparation has changed or new foods or dishes have been added. Of those, 40% said they have changed their Thanksgiving menus to make them healthier. Such changes include using more poultry, fish and seafood, increasing the use of fresh vegetables, salads and fruit, and adding more ethnic foods into their meals.

The top reasons cited by those not making healthier choices in how they eat: 80% don't want to change the taste, 50% don't want to change the way some foods have traditionally been prepared, and 32% are not sure what ingredients or products to substitute.

At the same time, a large majority of Americans (70%) believe that incorporating traditions to observe holidays and special occasions helps to add comfort and balance to the hectic pace of life today, and 57% say that holidays and special occasions are times when they look for different foods to add to their meals.

"We want people to know they can celebrate and enjoy healthy food traditions without sacrificing taste," said Dave Scheiber, Director of Marketing for Filippo Berio Olive Oil. "At Filippo Berio, we have more than a 100-year tradition of being an Italian family business, so we know how important it is to help people maintain a sense of tradition in their families that is real and relevant to today's tastes and busy lifestyles."

Olive Oil Users

According to the survey, 44% of respondents have started using olive oil as a substitute for other fats and oils, with an additional 13% recognizing the value of doing so.

The survey also shows that olive oil converts are more likely than others to have made other healthy dietary changes. Of these, 72% have reduced saturated fats, and 65% have added more fresh fruits and vegetables (compared to 57% and 48%, respectively, of respondents overall).

"We're not sure what came first, the chicken or the egg, but we know that some of the more health-conscious people are using olive oil to cook them both," said Scheiber.

Based on the results of the survey, Filippo Berio has created a new brochure entitled "Real People, Real Traditions," to help consumers put a new twist on their traditional family recipes and to create delicious new family favorites. Consumers can get a free copy of the brochure by visiting www.filippoberio.com.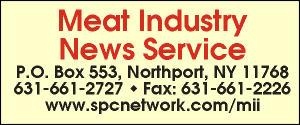 E-mail: sflanagan@sprintmail.com