011117 USDA To Enforce Humane Meat Plant Laws
November 3, 2001

Washington - Under pressure from Congress and the food industry, the government is hiring 17 veterinarians to try to ensure that slaughterhouses nationwide are treating livestock humanely.

The Agriculture Department also is creating an electronic database to track violations but denies there are widespread problems.

This summer, Burger King accused the department of lax enforcement of a 1978 law that requires livestock to be rendered unconscious before they are bled and skinned.

``We still believe it's being enforced,'' said Carol Blake, a spokeswoman for USDA's Food Safety and Inspection Service. Hiring new veterinarians to oversee the plants ``will provide extra insurance,'' she said.

But critics of the department, including its inspectors union, said more inspectors are needed to look for violations at plants.

``What they did instead was to hire a bunch of bureaucrats,'' said Arthur Hughes, president of the Northeast Council of Food Inspection Locals.

The Senate and House have passed resolutions urging tougher enforcement and put $1 million in a supplemental spending bill earlier this year to pay for it.

The 17 veterinarians, who will be based at the food agency's district offices, also will help oversee monitoring for animal diseases, such as mad cow. Some 2,000 plants nationwide slaughter cattle, hogs and other livestock.

Surveys of slaughterhouses have shown marked improvement in the past couple of years, but animal welfare specialists say that's largely due to the fast-food industry, not the Agriculture Department. Led by McDonald's, restaurant chains are now performing their own inspections. Slaughterhouses that fail have been dropped as suppliers. Several plant managers have been fired or forced into retirement.

Burger King, which had been the target of protests by animal rights activists, announced in June that it would start an inspection program of its own but simultaneously petitioned USDA to improve its own enforcement.

Earlier, the inspectors union alleged the meat industry ignores the federal humane-slaughter law ``with virtual impunity'' because of lax enforcement. The union wants inspectors stationed full time in areas of the plants where animals are stunned and bled.

The new database is an improvement because it will give inspectors a way to report violations, said Bruce Friedrich, a spokesman for People for the Ethical Treatment of Animals.

Records of violations are now kept on paper inside plants and aren't tracked by USDA.

The department ``should be enforcing the humane slaughter act with unannounced inspections by a force of inspectors whose sole duty is to enforce the act, like the fast-food outlets do with their monitoring programs,'' Friedrich said.

Janet Riley, a spokeswoman for the American Meat Institute, said the industry has made dramatic improvements in animal handling. ``Our members have been so conscientious about animal welfare that we are not especially concerned about additional oversight,'' she said.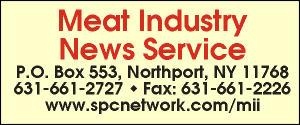 E-mail: sflanagan@sprintmail.com