011113 Dems Say More Money to Protect Food
November 3, 2001

Washington - Senate Democrats want to spend more than $700 million to hire hundreds of new inspectors and take other measures to protect farms and food from terrorist attack.

The Bush administration last month requested $106 million for food security.

The Democratic proposal includes $636 million for the Agriculture Department and $100 million for the Food and Drug Administration. The money would bolster inspections of imported food and domestic grain supplies and also pay for research into biosecurity measures.

The extra funding for USDA would be roughly equal to the entire annual budget of the department's Animal and Plant Inspection Service, which guards against the introduction of diseases that could harm livestock and crops.

``The American people need to have confidence that the food they put on their table or order at their local restaurant is safe,'' said Sen. Robert Byrd, a West Virginia Democrat who is chairman of the Senate Appropriations Committee.

The funding is part of a $3.1 billion package of biosecurity measures that Democrats put in their economic stimulus plan. If the stimulus plan isn't approved, Byrd plans to put the food inspection funding in a Defense Department spending bill, spokesman Tom Gavin said Thursday.

Agriculture Secretary Ann Veneman said that consumers should feel confident about the safety of their food supply, though she recommended washing fruits and vegetables and cooking meat thoroughly.

``At every step of the food chain, both in the private sector and in government, we are continuing to work together to review systems and to ensure that our food will have all of the precautions taken that we possibly can,'' Veneman said in an interview with CNN.

She has said her biggest concern is that terrorists will attempt to infect livestock with foot-and-mouth disease. While harmless to humans, the disease spreads so quickly that an outbreak could be devastating to the livestock industry.

USDA officials had no immediate comment on the Democrats' spending plan.

Most of the administration's requested funding would go to FDA. The agency wants to hire 410 new inspectors, lab specialists and other personnel at FDA to check fruits, vegetables and other products, primarily imports, and buy additional equipment to detect pathogens. FDA currently inspects just 1% of imports.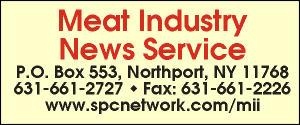 E-mail: sflanagan@sprintmail.com