011108 Pilgrim's Pride Reports Rise In Earnings
November 3, 2001

Pittsburg, TX - Chicken and turkey producer Pilgrim's Pride Corp. reported a rise in fourth quarter earnings, boosted by a recent acquisition and higher chicken prices.

The company said its fourth quarter income, before charges, was $13.8 million, or 33 cents a share, up from $11.3 million, or 28 cents a share, in the same period a year ago. Including an extraordinary charge of $900,000, Pilgram's Pride posted net income of $12.9 million, or 31 cents a share.

Sales rose to $641.3 million, up from $379.4 million a year ago, a sharp rise the company attributed to its acquisition of WLR Foods, which took effect on Jan. 27, 2001.

The company's shares closed down 5 cents, or 0.4%, at $12.45 on Tuesday, closer to their 52-week high of $15.38 than their 52-week low of $6.31.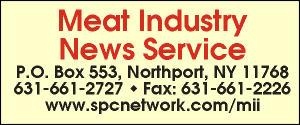 E-mail: sflanagan@sprintmail.com