011038 Smithfield Completes Packerland Purchase
October 25, 2001

Smithfield, VA - No. 1 pork processor Smithfield Foods Inc. said that it has completed a $250 million acquisition of No. 5 U.S. beef packer Packerland Industries, markedly increasing its share of the beef processing industry.

The deal, announced in early September, marks an important foray for Smithfield as it looks to expand beyond pork and into beef after losing a bidding war for No. 1 U.S. beef packer IBP Inc. late last year to Tyson Foods Inc., the No. 1 chicken processor and now the world's largest meat company.

Chief Executive Joseph Luter told last week that at least two more acquisitions were likely in the next two or three weeks though he declined to specify whether they were beef or pork companies.

Green Bay, Wisconsin-based Packerland gives Smithfield control of about 7% of the U.S. beef market. Packerland has about 5% of the daily processing capacity and Smithfield's first beef industry acquisition in June, Moyer Packing Co., has a 2% share.

Smithfield issued 6.4 million common shares in the deal and assumed about $118 million of debt. It also created a beef division with about $2 billion in annual sales, which will be headed by Packerland Chief Executive Richard Vesta.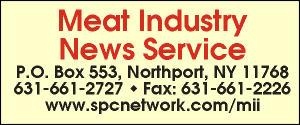 E-mail: sflanagan@sprintmail.com