011016 Japan Suspected "Mad Cow" Case Was Negative
October 13, 2001

Tokyo - Japan's Health Ministry said on Friday that a second test carried out on a beef cow suspected of having "mad cow" disease had proved negative, the Kyodo news agency and other Japanese news media reported.

The Tokyo Metropolitan Government said earlier it had found a suspected case of mad cow disease at a wholesale meat market in Tokyo.

The outbreak in Japan of the disease, formally known as bovine spongiform encephalopathy (BSE ), was confirmed last month after a Holstein dairy cow on a farm in Chiba, near Tokyo, tested positive.

Variant Creutzfeldt-Jakob disease , believed to be the human version of the brain-wasting disease, has killed dozens of people in Europe.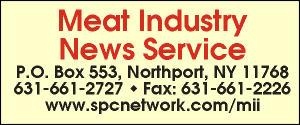 E-mail: sflanagan@sprintmail.com