011014 Tricon U.S. Sept Same-Store Sales Rise 2%
October 13, 2001

Louisville, Ky - Fast food and pizza chain operator Tricon Global Restaurants Inc. said that sales rose 2% in U.S. stores open for at least a year during a four-week period which was mostly after the attacks on the U.S.

The operator of Pizza Hut, KFC and Taco Bell chains also confirmed its 2001 earnings guidance of $3.18 a share from ongoing operations. Analysts on average expect earnings of $3.13 a share, according to market research firm Thomson Financial/First Call.

Shares of Tricon rose $2.52, or nearly 6%, to $44.80 Thursday on the New York Stock Exchange. The shares have increased nearly 10% since trade resumed after the attacks and have climbed about 35% since the start of the year.

Same-store sales rose 8% at KFC, increased 4% at Taco Bell and fell 6% at Pizza Hut for the period ended Oct. 6, which is the first four weeks of the fiscal fourth quarter, the company said.

Tricon said a one-week delay in promotion of Pizza Hut's Big New Yorker pizza resulted in no network television advertising and a temporary loss in sales momentum at the chain.

Tricon did run Taco Bell baja chicken soft taco and chicken quesadilla promotions and KFC popcorn chicken advertising featuring actor Jason Alexander during the period.

The company said it expects Pizza Hut's sales momentum to rebuild to previously expected levels during the fourth quarter.

Tricon, whose International business reported year-to-date system- sales growth of 9% before foreign currency conversion, has more than 30,000 restaurants worldwide with total system sales of more than $22 billion in 2000.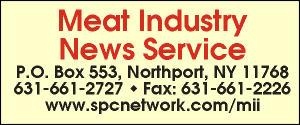 E-mail: sflanagan@sprintmail.com