010916 IBP Shareholders Approve Merger with Tyson
September 28, 2001

Shareholders of beef and pork processor IBP Inc. on Friday approved the company's acquisition by poultry giant Tyson Foods Inc. in a $2.9 billion deal creating the largest U.S. meat company.

The completion of the on-again, off-again deal creates the largest U.S. poultry and beef company and nearly the largest pork company with annual revenue projected at $25.7 billion in fiscal 2002. Tyson agreed to buy IBP in June ending a months-long dispute that sparked a legal battle.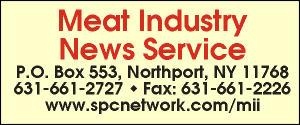 E-mail: sflanagan@sprintmail.com