010729 Hormel To Sell Processing Equipment Unit
July 27, 2001

Austin, MA- Hormel Foods Corp. said that it intends to sell a subsidiary that makes food processing equipment to Chicago-based Cozzini Inc. in an effort to focus on its core food business.

The maker of Spam luncheon meat and Dinty Moore beef stew said Cozzini intends to hire the 45 employees who work at Hormel's Algona Fabrication and Equipment Co. unit and has tentative plans to expand the Algona, Iowa, plant.

Hormel said a letter of intent has been signed. No terms were disclosed. Cozzini makes a complete line of meat and food processing equipment.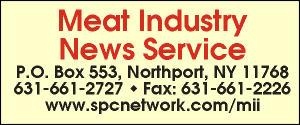 E-mail: sflanagan@sprintmail.com