010713 Two from IBP Will Join Tyson Board
July 3, 2001

Springdale, AR - Tyson Foods Inc. will put two current members of IBP Inc.'s board of directors on its board after the companies complete a merger of the nation's largest poultry and beef companies.

Bob Peterson and Dick Bond of IBP will join the Tyson board.

"We will have many important decisions as we combine our two great companies," Tyson president John Tyson said. "Their insight will be invaluable."

Peterson is IBP's chairman and Bond is the beef company's president.

Tyson and IBP on Wednesday announced they would conclude a $2.7 billion merger by Sept. 1, complying with an order by a Delaware judge. The resulting company would have 28% of the nation's beef market, 25% of the chicken market and 18% of the pork market. The pact already has Justice Department approval.

Experts say consumers can expect to see more beef products marketed as chicken products are sold now.

The companies concluded their deal after a Delaware judge ordered Springdale-based Tyson to stick with its plan to buy IBP, of Dakota Dunes, S.D.

Tyson announced Jan. 1 that it would buy IBP, topping a rival bid from Smithfield Foods, the world's largest pork producer. Tyson tried to call off the deal in March, saying IBP provided misleading information about the company's worth. On June 15, a Delaware judge said he didn't believe Tyson and ordered it to complete the transaction.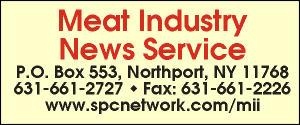 E-mail: sflanagan@sprintmail.com