010567 Beef Demand Positive Heading into Grill Season
May 26, 2001

Denver, CO - Preliminary first quarter 2001 data shows consumer demand for U.S. beef remains strong, the National Cattlemen's Beef Association (NCBA) announced.

"Preliminary data from first quarter 2001 indicates beef demand may be up roughly 2% when compared to first quarter 2000," said Chuck Schroeder, CEO of the NCBA. "The positive demand trend reinforces consumers' love for beef and the industry's ability to deliver quality products that meet their needs."

Beef demand, which is a measure accounting for both per capita consumption and consumer spending for beef, has trended upward since 1999 when the industry put in place an aggressive business plan focused on delivering more convenient beef products, educating consumers about the bundle of key nutrients found in beef, and working hard to ensure U.S. beef remained the safest in the world. Since then, demand figures have increased nine out of the past 11 quarters, compared to the same quarters the previous year.

Strong demand is a good sign for the beef industry, which is gearing up for the Memorial Day holiday weekend and the start of grilling season. Memorial Day is the single largest beef day of the year.

"We expect American consumers will purchase 60 million pounds of beef for their Memorial Day celebrations, which is about 25% greater than average daily purchases for beef," said Chuck Lambert, chief economist for NCBA. "Hamburgers and steaks continue to be top choices for the grill, and their popularity will drive increased beef sales and consumption this Memorial Day and throughout the grilling season."

Lambert expects to see similar gains for Fourth of July and Labor Day, which typically tie for the second most popular beef days of the year.

While a strong grilling season could certainly contribute to the industry's long-term goal of building consumer demand, Schroeder believes the real keys to growth lie in convenience, nutrition and safety.

Using checkoff dollars on behalf of the Cattlemen's Beef Board and State Beef Councils, NCBA has helped promote a new category of fully cooked beef roasts, steaks and other entrees that can be heated in the microwave and ready to serve in about 10 minutes. Sales of these types of products have increased nearly 88% in the past two years, and annual sales for the category reached nearly $115 million as of April 2000. The beef checkoff also has helped spur new value-added fresh products like pre-marinated beef roasts, new beef items for the deli category, frozen meal kits containing beef, and value- added products for the foodservice channel.

"The best selling meat products during grilling season have one thing in common: convenience. We've built on the appeal of products like ground beef and steaks by helping introduce a host of new, convenient beef products that consumers can enjoy any day of the year," Schroeder explained.

Consumers today also are feeling better about beef's nutritional benefits due in large part to a major checkoff-funded marketing effort designed to increase awareness of the zinc, iron, protein and B-vitamins found in beef. A recent consumer attitudes study of more than 1,300 adults found Americans were more likely to say they feel better about beef's nutritional value today (35%) than they did a year ago (25%). Fifty-four percent of Americans agree beef is an important part of a balanced diet and healthy lifestyle, compared with 51% in 1999.

Decades of leadership in the food safety arena have helped set the U.S. beef industry apart from other regions of the world, particularly in regard to animal disease such as Bovine Spongiform Encephalopathy (BSE or "mad cow disease") and foot-and-mouth disease -- two epidemics that have severely damaged the European beef economy in recent years. Neither disease exists in the U.S.

"When it comes to BSE prevention, the U.S. is a country of firsts," said Schroeder. "We were the first country to take aggressive prevention steps without actually having the disease within our borders; the first to ban live animals and animal products from countries with BSE; the first to create an ongoing surveillance program that monitors cattle herds for any signs of neurological disease; and the first country without BSE to ban certain feeding practices in an effort to keep the disease from spreading should even an isolated case ever occur here." He added these actions have led to a high consumer confidence in the safety of U.S. beef.

While the industry will continue its diligent efforts to keep America's cattle herds safe, Schroeder says it will not stray from core demand drivers like convenience and nutrition -- elements that have helped keep beef America's number-one selling protein.

Beef industry demand-building efforts are funded by beef producers through their $1-per-head checkoff program and are managed domestically for the Cattlemen's Beef Board and state beef councils by the National Cattlemen's Beef Association. The national beef checkoff is administered by the Cattlemen's Beef Promotion and Research Board. This 110-member board is appointed by the Secretary of Agriculture to oversee the collection of the $1- per-head checkoff, certify state beef councils, implement the provisions of the Federal Order establishing the checkoff and evaluate the effectiveness of checkoff programs.

Producer-directed and consumer-focused, the National Cattlemen's Beef Association is the trade association of America's cattle farmers and ranchers, and the marketing organization for the largest segment of the nation's food and fiber industry.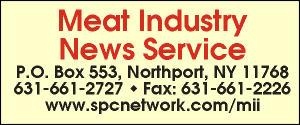 E-mail: sflanagan@sprintmail.com