001127 Wholesale Inflation Edged Up In October
November 18, 2000

Washington - Wholesale inflation edged up in October as sharply higher costs for food and natural gas swamped the biggest drop in car prices in 10 years. Even with the advance, economists believe the Federal Reserve will leave interest rates unchanged next week.

The Producer Price Index, which measures inflation pressures before they reach store shelves, was more subdued last month, climbing a seasonally adjusted 0.4% after jumping 0.9% in September, the Labor Department reported.

On Wall Street, stocks fell as investors were rattled by the prospect of a prolonged presidential election stalemate. The Dow Jones industrial average -- which had fallen by 288 points in the afternoon -- regained most of the ground to close down 72.81 points at 10,834.25.

The wholesale price report also showed that prices for goods other than food and energy -- which can swing widely from month to month -- actually fell by 0.1% in October, following a 0.3% rise, suggesting that inflation was in check. It marked the first decline in the "core" inflation rate since January.

"Inflation at the producer price level is still tightly under wraps," said William Cheney, chief economist for John Hancock.

While economists believe that energy prices will moderate over the next six months, that may be of little comfort to consumers who are likely to face astronomical heating bills this winter.

The Federal Reserve has boosted interest rates six times since June 1999 to slow the economy and keep inflation under control. Given signs that the Fed's rate increases are working, many analysts believe the central bank will leave interest rates unchanged at its Nov. 15 meeting.

The 0.4% rise in the PPI was twice as big as many analysts expected, but the decline in the core rate was an even better showing than the slim 0.1% increase they anticipated.

In another report, new claims for state unemployment insurance jumped last week by a seasonally adjusted 35,000 to 344,000, its highest level since early January 1999, suggesting that the nation's red-hot labor market is cooling a bit.

A government analyst blamed temporary layoffs in the automobile industry for most of the rise. Some plants shut down temporarily and others decreased production to trim inventories, given moderating demand arising from the slowing economy, said Paul Taylor, chief economist for the National Automobile Dealers Association.

On the inflation front, wholesale prices this year have been rising at an annual rate of 4.1%, compared with a 2.9% gain for all of 1999. The pickup in this year's prices largely reflects surging energy costs.

In October, energy prices rose 1.4% after leaping 3.7% in September. Residential natural gas prices posted their biggest increase since June, rising 5.2%. Residential electricity prices rose 0.8%.

More expensive natural gas prices reflect tight supplies and extraordinarily high demand from consumers, said Mark Zandi, chief economist for the consulting firm Economy.com.

The pickup in electricity prices stems from more expensive natural gas and oil costs, which are used to fuel electric power plants, Zandi said. Those higher costs are being passed along to consumers in the form of higher prices, he added.

Crude-oil prices have risen sharply this year as the Organization of Petroleum Exporting Countries limited production and U.S. supplies shrank. But economists expect prices to moderate as oil-producing nations boost output.

After soaring in September, prices for gasoline and heating oil fell last month by 1.8% and 3.4%, respectively.

But food prices rose 0.8% in October, the biggest increase since April, following a 0.4% rise the month before.

Prices rose for eggs, beef, fruits and vegetables, swamping declining prices for dairy products.

Economists blamed the higher food prices on a number of factors including the lingering affects of a drought that had hit parts of the country and more expensive fuel costs to transport goods from farms or ranches to processing sites and warehouses.

Elsewhere in the report, car prices fell 1.8%, the biggest drop in 10 years and truck prices decreased 1.2%, the largest decline in three years.

Economists said incentives and discounts from manufacturers along with the government's annual adjustment to capture improvements in cars and trucks accounted for the declines.

Meanwhile, prescription drugs rose 1.6% in October, the biggest rise since March 1998. Economists say increased demand and the introduction of more expensive new drugs have boosted prices.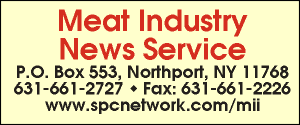 E-mail: sflanagan@sprintmail.com