001113 IBP to Build $25 Million Iowa Plant
November 4, 2000

Council Bluffs, IA - Citing a growing demand for heat-and-serve meats, IBP Inc. said it will build a new $25 million factory here.

The 85,000-square-foot plant will produce cooked beef and pork roasts under IBP's new Thomas E. Wilson brand name. Production is expected to begin by next summer and will eventually create 250 to 300 jobs.

The new product line features beef and pork cuts that have been pre-cooked for as long as 12 hours but can be reheated in five minutes. The products currently include pot roast, sliced roast beef and gravy, beef in barbecue sauce, sliced smoke brisket, beef sirloin roast and two varieties of pork roast.

As president of Wilson & Co., Wilson developed many of the beef and pork products consumed today. Early customer response to the line of cooked meats named for him been "extremely positive," said Jack Dunn, president of IBP's Consumer Branded Products Group.

IBP is the world's largest supplier of fresh beef and pork. The company also is a diversified producer of hundreds of consumer-ready food products, including deli meats, pizza toppings, pizza crusts, wraps, appetizers, hors d'oeuvres, soups, sauces and side dishes, as well as tanned leather products for leading automobile, upholstery and apparel manufacturers.

Headquartered in Dakota Dunes, S.D., IBP has more than 60 production sites in North America, joint venture operations in China, Ireland and Russia, and sales offices throughout the world.

The 40-year-old company, which generated sales of $14.1 billion in 1999, employs 49,000 people.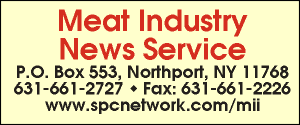 E-mail: sflanagan@sprintmail.com