000926 ConAgra Profit Up 44%, Meets Estimate
September 23, 2000

Omaha, NE - Diversified food company ConAgra Inc. posted a 44% rise in fiscal first-quarter profits, meeting Wall Street expectations, and forecast that double-digit growth in earnings per share would continue for the year.

The Omaha, Nebraska-based company, whose consumer brands include Healthy Choice, Hunt's and Wesson, said earnings for the first quarter ended Aug. 27 totalled $146.1 million, or 30 cents per diluted share, compared with $101.8 million, or 21 cents a share, in the year-ago period ended Aug. 29. Sales rose 3.2% to $6.8 billion.

On average, analysts surveyed by First Call/Thomson Financial had expected the company to report earnings of 30 cents a share.

"I think they're doing all the right things," said Patrick Schumann, an Edward Jones analyst. "They're acquiring businesses, taking costs out of systems, becoming more efficient, focusing on higher-margin business lines like grocery branded product and food service channels."

Still, he said, he considers ConAgra's shares undervalued and expects that the company will have to continue to take bold moves to drive up the share price.

ConAgra recently completed a cost-cutting programme ahead of schedule in its fiscal fourth quarter with charges totalling $1.1 billion over two fiscal years, about $200 million under its expected budget. During that time, it shed many non-core businesses.

During the first quarter, ConAgra completed its acquisition of International Home Foods, which is being integrated into the company's grocery products division.

"Conagra has always been a hunter," Chairman and Chief Executive Bruce Rohde said in a interview. "We're going to pursue very surgically those acquisitions that help improve our business model, that will help bolster our food businesses."

"I think we're the biggest bargain in the food group," Rohde said, noting that part of the stock depression could be "due to an overhang" following the closure of the International Home Foods deal.

The company expects to deliver double-digit earnings per share growth again in the fiscal year, Rohde said, noting that he expects to "hit full momentum" with recent restructuring changes by fiscal 2002.

ConAgra's packaged-foods operating profit rose 4% in the first quarter, to $207 million, and sales increased 1% to $1.7 billion. The company said strong trends for its french fry and speciality meats businesses buoyed the division's growth.

Poultry oversupply issues hurt operating profits at ConAgra's refrigerated foods segment, which saw first-quarter earnings fall 8% to $108 million. But the unit's sales grew 7% to $3.3 billion, helped by gains at its beef and branded processed meat operations.

While operating profit at the agricultural products segment grew 36% to $95 million, sales declined 2% to $1.7 billion, due mainly to "dispositions of some low-margin, non-core businesses."

The profit growth in agricultural products was boosted by strong trends at United Agri Products, North America's largest distributor of crop inputs and yield enhancement services, as well as improved results for the ConAgra Trade Group, the company said.

ConAgra said International Home Foods did not affect results in packaged foods in the quarter. It expects the acquisition to add to earnings during fiscal 2001.

In the year-ago quarter, the company had restructuring charges of $47.1 million, or 6 cents a share.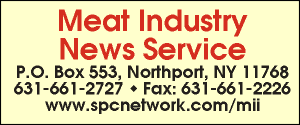 E-mail: sflanagan@sprintmail.com