000904 Washington: Lunchbox Smoked Turkey Recalled
September 10, 2000

Mukilteo, WA - Jumbo Foods is recalling its Lunchbox Smoked Turkey Sandwiches due to possible contamination, though no illnesses have been reported.

The bacteria Listeria monocytogenes was found in routine sampling by the state Agriculture Department, the company said.

Symptoms of infection in healthy individuals include fever, headache, nausea, stomach ache and diarrhea. The bacteria can cause fatal illness in the very old and very young, however, and has been linked to miscarriages and stillbirths.

The recalled sandwiches were made at a plant in Mukilteo, about 30 miles north of Seattle, and sold in convenience stores in Washington, Oregon, Idaho, Arizona and southern California. They weigh 6 ounces each and have a red-and- blue label with a Sept. 25 expiration date.

The company has stopped production of the product while it investigates the problem with the Food and Drug Administration.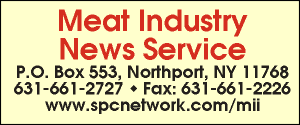 E-mail: sflanagan@sprintmail.com