000749 Congress Supports Mustard on Hot Dogs
July 17, 2000

Washington - A recent National Hot Dog & Sausage Council poll of Representatives and Senators in the U.S. Congress revealed that 73% of Republican lawmakers prefer mustard on their hot dog compared to 47% of Democrat lawmakers. In keeping with the mustard- leaning tendencies of the Republican party, Texas Governor George W. Bush prefers mustard and relish on his hot dog.

The National Hot Dog & Sausage Council conducted the Congressional poll to mark National Hot Dog Month in July. In conducting the poll, the Council contacted the offices of all U.S. Senators and Representatives with a simple question: "what do you prefer on your hot dog?" A total of 40 lawmakers responded to the poll, which was conducted in June/July, 2000. The Council also contacted the campaigns of the likely presidential nominees of the Republican and Democratic parties.

The poll revealed that Democrats in the House and Senate are deeply divided over the ketchup/mustard issue. While 47% of Democrats preferred mustard, 35% preferred ketchup on their hot dogs.

Republicans in the House and Senate are unified in their support of mustard on their hot dog, with 73% preferring mustard to only 17% of Republican lawmakers opting for ketchup.

The Council's poll of presidential candidates asked what the future "top dog" liked on top of his dog. According to his campaign, Texas Governor George W. Bush likes mustard and relish on his hot dog. The Council's poll also revealed some interesting hot dog topping preferences among lawmakers. Some responses from lawmakers include:

Sen. Richard Durbin (D-IL) prefers his hot dog topped "Chicago style," with mustard, onions, relish, tomatoes, pickles, sport peppers and celery salt. Rep. James Walsh (R-NY) favors a Hoffman's hot dog at the famous Heid's Hot Dog Stand in Liverpool, NY, smothered in dark mustard and accompanied by chocolate milk. Rep. Tom Udall (D-NM) tops his hot dog with green chile from New Mexico. Rep. John Boehner (R-OH) prefers his hot dog served with Cincinnati-style chili, preferably from Cincinnati's famous Skyline Chili.

"The hot dog toppings issue is clearly emerging as one of the hot-button issues in the 2000 election year," said NHDSC Manager of Public Affairs James Ratchford. "The range of responses shows that although our Congress is united in their love for hot dogs, they have very different opinions about what should go on top of their hot dogs. A hearing may be in order to resolve this issue."

The great hot dog debate will continue on Capitol Hill on July 19, when the American Meat Institute hosts its annual Hot Dog Lunch in celebration of National Hot Dog Month. The luncheon -- one of the most popular annual events on Capitol Hill -- features a variety of popular hot dog and sausage products from lunch sponsors to celebrate National Hot Dog Month in July. Baseball legends Whitey Ford, Boog Powell and Wilmer Fields will be on hand to sign autographs and meet guests at the annual event, which last year attracted more than 1,000 Capitol Hill Staff, lawmakers and federal agency officials.

This year's lunch will also feature hot dogs from Armour Swift-Eckrich, Farmland, Hormel Foods Corporation, Hygrade Food Products Corp., and Oscar Mayer Foods Corporation.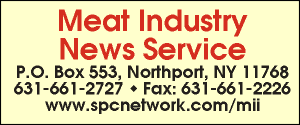 E-mail: sflanagan@sprintmail.com