000546 Diet Guidelines Stress Exercise for First Time
May 28, 2000

Washington - The Clinton Administration released new dietary guidelines that for the first time emphasized exercise, and said the guidelines were the "gold standard of nutritional information."

As millions of Americans prepared to hold traditional backyard barbecues this Memorial Day weekend, Clinton used his weekly radio address to stress the importance of healthy living.

"These new guidelines strengthen the message that doctors and scientists have been telling us for some time now: we should choose more whole-grain foods and a variety of fruits and vegetables every day," Clinton said.

"And we should moderate the saturated fat, cholesterol, sugar, salt and alcohol in our diets," added Clinton, who has a well documented appetite for not-very-healthy food.

Clinton also said that, for the first time in 31 years, experts will meet in Washington next week for a summit on nutrition sponsored by the Departments of Agriculture and Health and Human Services.

Exercise Is Good For You

The new guidelines recommend that both adults and children get at least 30 minutes of physical activity daily in order to lower the risk of heart disease, colon cancer and diabetes.

"Just a brisk 30-minute walk five times a week, for instance, can cut the chance of developing or dying from heart disease in half," said Clinton, a regular jogger until a knee injury in 1997.

Health and consumer advocates welcomed the addition.

"The addition of regular exercise is incredibly important for the dietary guidelines," said Kristine Clark, head of sports nutrition at Pennsylvania State University. "Although you don't eat exercise, it's the second half of the energy balance equation."

The White House said the number of overweight Americans increased from 25 to 33% between 1980 and 1991, and that 58 million American adults ages 20 through 74 are overweight.

As well as stressing exercise for the first time, another new guideline noted the importance of handling and storing food safely. Extra emphasis is placed on caring for perishable foods that require special care, such as eggs, meats, poultry, fish, shellfish, and milk products.

The guidelines, which are updated every five years, "serve as the gold standard of nutritional information," Clinton said, noting they determine the nutritional content of the lunches served to 26 million school children.

Sugar Industry Criticism

While most of the guidelines are nearly the same as a recent draft, the administration changed its final recommendation on sugar consumption.

Instead of urging consumers to limit their intake of sweets, soft drinks and other sugary foods -- which was criticized by the U.S. sugar industry -- the final version calls for Americans to select beverages and foods that will moderate their overall consumption of sugar.

"That's a big defeat for health advocates who are fighting poor nutrition and obesity," said Michael Jacobson, director of the Center for Science in the Public Interest. The average American eats 20 teaspoons of sugar daily, double the amount recommended by most experts, he said.

Clinton, whose administration has emphasized food safety and health, also said he will propose before leaving office that packaged meat and poultry sold in stores must have nutrition labels.

"Shoppers value the fact that when they pick up a box of cereal or a frozen meal, they can check the nutrition labels and see how many calories or grams of saturated fat these foods contain. That's the same kind of information that ought to be put on every package of ground beef," he said. "It's time we made it mandatory."

The proposal is likely to run into opposition from the meat industry, which won a victory over the administration on Thursday, when a federal judge ruled the Agriculture Department cannot shut down a beef processing plant that fails its new salmonella tests.

After the ruling, Clinton accused a "small minority" of meat plants of undermining new science-based meat inspection rules introduced four years ago.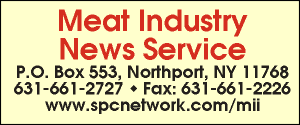 E-mail: sflanagan@sprintmail.com