000540 Checkers Fires 'Em Up With New Product Test
May 28, 2000

Clearwater, FL - Checkers Drive-in Restaurants, Inc. early results from their Miami test market -- where their new, "Screamin' Chicken Strips" Snack Pack and Meal Deal "in a box" have been in place since April -- have been phenomenal.

"We have seen comp sales results exceeding all expectations since the test first began," stated Richard Turer, Vice President of Marketing.

Screamin' Chicken Strips are highly seasoned, full-muscle chicken strips (all white meat) served three ways in a special carrier (High Performance Human Fuel Box). The two-piece snack is complemented with Checkers Famous Hot Fries and is priced at $2.49. The three-piece combo meal comes with an extra strip and cole slaw and sells for $3.99. The combo is complete with an icy Coke for $4.79. All come complete with Buffalo sauce and Ranch dressing served right in the box.

"It's great to visit the test market and watch car after car being delivered this new package through the drive-through window. The highly designed box looks great, and our guests find it easy to handle reinforcing Checkers and Rally's commitment to be THE drive-through specialist," says Turer. "Screamin' Chicken has achieved a sales mix well above that of past product tests. It appears food cost has also been affected positively and check average is well above comparable markets," continued Turer.

Checkers has supported this test with Interactive Voice Response cards to help gather product ratings from their guests and has also implemented exit interviews to gather verbatims. "Guests simply call in after their visit and respond to a few simple questions with IVR. We reward them for their time by providing a gift certificate valid for a future visit. We, in turn, have been rewarded with product ratings simply off the charts," stated Turer.

Daniel J. Dorsch, President and CEO, stated, "Marketing and Operations have hit a home run with 'Screamin' Chicken Strips.' This product is being thoroughly tested and should secure a place on our promotional calendar sooner than planned. We will continue to work with the franchised community to share these results and seek their assistance in moving to a national roll-out as quickly as possible."

Checkers Drive-In Restaurants, Inc. merged with Rally's Hamburgers, Inc. in 1999 to create the largest double drive-thru restaurants in the United States. Checkers Drive-in Restaurants, Inc., and its franchisees own approximately 469 Checkers operating primarily in the Southeastern United States and approximately 465 Rally's operating primarily in the Midwestern United States.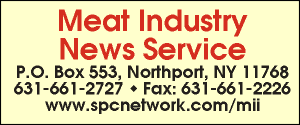 E-mail: sflanagan@sprintmail.com