000519 Japan Orders Cattle Kill After Disease Outbreak
May 16, 2000

Tokyo - Japan's Agriculture Ministry said on Friday it will destroy all 700 head of cattle on a farm on the northern island of Hokkaido, a key livestock region, after two head of cattle were infected with what is thought to be foot- and-mouth disease.

The suspected outbreak came just as two prefectures at the opposite end of the country, on the southern island of Kyushu, had declared themselves free of the deadly and highly contagious livestock disease after an occurrence in March -- Japan's first since 1908.

The ministry has been conducting blood tests on cattle at farms throughout Japan that used imported straw and hay for feed or bedding, which are suspected to have caused the outbreak on Kyushu.

"We have been testing about 2,700 head of cattle in 271 farms (in Hokkaido) which had used imported straw and hay or had brought in cattle from Kyushu," said an animal health official with the Hokkaido government.

"The farm on which the suspected case was discovered has 700 head of cattle and all of them are expected to be killed within the next 48 hours," he said.

An Agriculture Ministry official added that the government has prohibited the movement of animals within a 10 km (six-mile) radius of the farm for the time being and will take all necessary measures to keep the disease from spreading.

"We cannot deny the disease could be spreading... What we can do is take all necessary steps to contain it," he said.

The ministry suspects the disease may have been brought to Japan via straw or hay imported from Taiwan, China, South Korea or North Korea, and ordered all such material to be disinfected soon after the Kyushu outbreak was discovered.

The illness, which afflicts cloven-hoofed animals and can spread rapidly through herds, cannot be transmitted to humans.

Hokkaido Livestock Trading Hit

Feed traders said that, if the disease spreads in Hokkaido, the impact on the region could be enormous.

Hokkaido is home to 48% of Japan's 1.81 million dairy cows and about 14% of its 2.8 million head of cattle raised for beef, and the outbreak occurred near the center of the region's cattle-raising area.

"It is too early to say how much impact the new case in Hokkaido will have on Japan's feed output, but the slaughter of 700 head of cattle may raise Japan's beef prices and feed makers may delay buying of imported corn while they assess the situation," a feed trader said.

The Hokkaido animal health official added: "We don't have any cattle markets within a 10 km radius of the farm where the suspected case of the disease was discovered, but it has already affected the Hokkaido livestock industry, with some markets in the region halting cattle trade."

After the first case of foot-and-mouth disease was confirmed among cattle on a farm in Kyushu's Miyazaki prefecture, many countries banned imports of Japanese meat and livestock products.

An outbreak in Taiwan in 1997 forced authorities to slaughter a quarter of the island's 14 million pigs and decimated what had been a $1.55 billion-a-year pork export industry.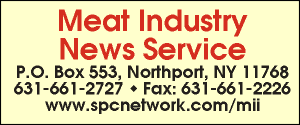 E-mail: sflanagan@sprintmail.com