000517 McDonald's Sales Through April Climb
May 16, 2000

Chicago - McDonald's Corp. said that sales at company-owned and franchised restaurants through the first four months of 2000 rose 9% from a year ago to $12.87 billion, when foreign currency changes are factored out.

Including foreign currency changes, sales were up 7%.

Wall Street analysts said the year-to-date sales results were in line with expectations.

"I think the sales look solid, and it look like they are headed for a good (second) quarter," said Ann Gurkin, an analyst with Davenport & Co. "One area we are going to continue to have to watch is the euro."

Shares of Oak Brook, Illinois-based McDonald's rose 1 9/16 to 38 9/16 in early afternoon trade on the New York Stock Exchange.

Sales in the United States rose 4% to $6.17 billion, the company said. Sales in Europe rose 2% to $3.11 billion, hurt by the weaker euro. Factoring out currency changes, European sales were up 12%.

"At current exchange rates, the euro would continue to have a negative impact on reported results throughout 2000," McDonald's said.

Last week, a number of Wall Street analysts lowered their full-year 1999 earnings per share estimates for McDonald's by 3 to 5 cents a share after the euro made lifetime lows against the U.S. dollar.

"Overall sales look good and are in line with expectations, said Douglas Christopher, an analyst with Crowell, Weedon & Co. "Factoring out currencies, the European economy appears to be strong and it looks like Japan is recovering."

In the 2000 first quarter, Europe contributed about one-third of the company's operating profits.

McDonald's Asia/Pacific sales rose 18% to $2.36 billion, helped by a stronger yen. Without currency changes, the increase would have been 12%. Latin America sales rose 11% to $583.8 million. Without currency factors, the rise would have been 13%.

The company's other segment, which includes sales at its non-hamburger brands including Donatos Pizza and Chipotle Mexican Grill, rose 24% to $646.8 million, a constant currency increase of 22%.

Looking forward, McDonald's U.S restaurants face a difficult year-over-year comparison in May due to last year's wildly popular Teenie Beanie Babies promotion, but an upcoming promotional tie-in with Walt Disney Co.'s "Dinosaurs" movie could help, Salomon Smith Barney analyst Mark Kalinowski said in a research note.

"On May 18, the new Disney computer-animated feature 'Dinosaurs' will begin to be promoted," Kalinowski wrote. "Movie trade publications indicate that the movie could prove to be a fairly sizable blockbuster, which could prove helpful to McDonald's in overcoming a difficult year-on-year comparison in May (2000)."

McDonald's operates more than 27,000 restaurants that serve more than 43 million people a day in 119 countries.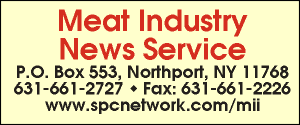 E-mail: sflanagan@sprintmail.com