000513 Jack in the Box Reports Record 2nd Quarter
May 16, 2000

San Diego, CA - Jack in the Box Inc., operator and franchiser of Jack in the Box restaurants, reported record 2nd-quarter earnings of $16.1 million, or 41 cents per diluted share, compared with $13.6 million, or 35 cents per diluted share, posted in the second quarter a year ago excluding an unusual item.

"Focused efforts to grow the Jack in the Box brand, coupled with ongoing product quality and service improvements, continue to deliver record performances," said CEO Robert J. Nugent. "These initiatives not only grew our same-store sales each quarter vs. a year ago for the last 21 quarters; they also helped company restaurants in our new southeastern markets exceed our expectations as we seek to become a national restaurant chain and a power brand.

"From increased sales to customer satisfaction research, we know Jack in the Box is growing in value to the consumer," he added.

Net earnings in the second quarter a year ago were $25 million, or $13.6 million excluding the after-tax benefit of an unusual, $18 million reduction in restaurant operating costs, due to a change in estimates resulting from improvement to the company's loss prevention and risk management programs.

Company restaurant sales achieved a record $347 million during the second quarter, growing 14.4% from the second quarter of last year. Systemwide sales improved 12.3% to $437 million. Total revenues grew 15% to $370 million.

Same-store sales at company restaurants grew 3% compared with the second quarter of last year, based upon a 1.4% increase in customer visits and a 1.6% increase in average check amounts. "Importantly, this year's increases in same- store sales are on top of last year's second quarter increase of 9.1%," Nugent said.

Restaurant operating margins improved to 19.9% from 19.5% in the second quarter of fiscal 1999 before the unusual item.

During the second quarter, Jack in the Box opened 29 new company restaurants for a total of 1,255 company restaurants. "Growth in existing and new markets, including Charlotte, Nashville and Baton Rouge, remains on track," noted Nugent. "So encouraging has been our performance in the Southeast, we intend to expand further next year into the Greenville/Spartanburg, S.C., area.

"Maintaining our momentum will require that we continue focusing on delivering a restaurant experience our customers want," Nugent said. To that end, the company will soon introduce new and limited-time-only products to accompany the core products for which it is known. A new and improved Chicken Supreme Sandwich, biscuit sandwiches, a root beer float and a raspberry ice cream shake will augment the menu systemwide during the third quarter, he noted.

Also during the quarter, the company repurchased 178,000 shares of stock for $3.4 million at an average price of $19 per share. Under authorization from its board of directors to repurchase up to $10 million of Jack in the Box stock, the company has repurchased a total of 306,000 shares at an average price of $19 per share, or $5.8 million.

This news release contains forward-looking statements that are subject to risks and uncertainties, many of which are beyond the company's control. Material risks affecting the company's business, as well as more comprehensive information relating to its operations, are detailed in the company's Forms 10-K and 10-Q filed with the Securities and Exchange Commission.

The Jack in the Box quarterly analyst conference call is available live through the Internet 8:30 a.m. Pacific Daylight Time on Wednesday, May 10. To access, log on to www.jackinthebox.com at least 15 minutes prior to the start of the call. Playback of the call is available for 90 days beginning 10:30 a.m. PDT May 10 through the same website.

Jack in the Box Inc. operates and franchises more than 1,580 quick-serve restaurants and has systemwide sales of $1.8 billion. With headquarters in San Diego, the company has 40,000 employees and operates in 14 states.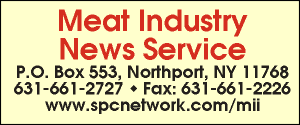 E-mail: sflanagan@sprintmail.com