000508 Chicken Consumption to Hit Records Again
May 8, 2000

Washington - Americans will eat a record 81 pounds of chicken per capita this year and even more next year, far outpacing consumption of beef and pork, the National Chicken Council said.

"While American consumers are eating an unprecedented 81 pounds of chicken per person this year, consumers say they plan to purchase even more chicken in the months to come," said Lindy Pilgrim, chief executive of Simmons Foods Inc.

Pilgrim announced the results of a survey commissioned by the trade group at a briefing for journalists in Las Vegas.

The poll also found that 89% of consumers surveyed ate chicken at least once each week, and more than one-third of them ate chicken three times a week.

Chicken consumption of 81 pounds per person annually exceeds beef at 69 pounds and pork at 52 pounds, the National Chicken Council said.

Americans have been steadily increasing the amount of chicken on their dinner tables since 1970, when the typical consumer ate 37 pounds of it. Beef consumption has declined sharply during the past three decades while pork has remained steady, according to government data.

Officials with the trade group that promotes poultry said chicken is popular with American households because it is convenient and fast to prepare.

The survey results were based on answers from 1,009 randomly selected American adults. The poll's margin of error is plus or minus three percentage points, the trade group said.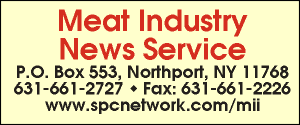 E-mail: sflanagan@sprintmail.com