000504 Union Loses Latest Organizing Vote at Wal-Mart
May 8, 2000

Dallas, TX - The second vote to unionize workers at a U.S. Wal-Mart this year was defeated, by six votes to five, but both sides argued the vote was a victory even as they filed legal challenges against four of the ballots.

The election followed the first successful union organizing vote at Wal- Mart Stores Inc., the world's largest retail chain, when meat department workers in Jacksonville, Texas, in February chose to join the United Food and Commercial Workers Union.

The UFCW organized the latest election, also in a meat department, at a Wal-Mart Superstore in the nearby East Texas town of Palestine. The Palestine ballots were cast on April 12 but only counted on Wednesday because of an appeal by Wal-Mart.

"We're excited about it. All the employees in the store here are excited about it," Wal-Mart spokeswoman Jessica Moser said by telephone from Palestine.

The union said the close result in Palestine showed there was still strong support among workers despite what it called a campaign of threats and coercion by management.

Wal-Mart has denied pressuring employees to vote against the UFCW.

"What the vote shows is that there is an unshakable base of support for the union. Most union victories come in a second election," UFCW spokesman Greg Denier said.

The organizing votes only affect a handful of meat workers out of over 300 employees at each Wal-Mart Supercenter. But the UFCW, one of the nation's largest unions with 1.4 million members, considers even a small presence a valuable inroad into the traditionally non-union retail chain.

Before the Jacksonville vote, only a few Canadian employees were unionized because of requirements by regulators there.

Bentonville, Arkansas-based Wal-Mart says it has an "open door" approach to labor relations that makes unions unnecessary.

Denier said the union will ask the National Labor Relations Board to order a new election based on allegations that managers threatened the jobs of pro- union meat workers and offered promotions and raises to those who voted against organizing.

Both sides plan to file challenges asking the NLRB to void some of the ballots.

Wal-Mart is challenging one ballot because the employee no longer works in the meat department, Moser said. Denier said the union objects to three ballots because it believes those workers were moved into the department by management to vote no.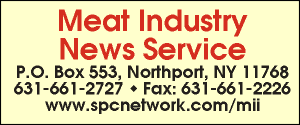 E-mail: sflanagan@sprintmail.com